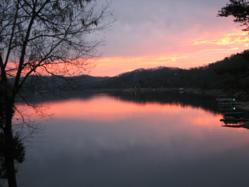 Come to Tennessee. Everything is here says retired bank executive David
Maynardville, TN (PRWEB) June 29, 2013
With the Baby Boomers on the move and seeking great places to retire, many of them are choosing to call Norris Lake and Union County home.
Recent newcomer and retired railroad executive, Tom visited many locations and researched other communities before selecting Union County for his and his wife's retirement location. He was sold on being away from the hustle and bustle of an urban area, but still close enough to metro Knoxville, to take advantage of the Knoxville Symphony Orchestra, Tennessee Theater, Clarence Brown Theater at UT and other Cultural attractions; proximity to advanced medical care, availability of regional air service, and the many area activities that are within a day's drive such as Asheville NC, Charleston SC, and Washington, DC.
David, a retired bank executive, who relocated to Norris Lake in 2008 states, "Now every day we enjoy spectacular scenery that includes magnificent sunsets to say nothing of the wonderful people you will meet, as well as the great fishing boating and other recreational opportunities that are available here. There is no individual State Tax filing in Tennessee and what I personally have found is that my dollar just seems to go a bit further since locating here." The current tax rate is low and the property taxes for a home in the $400,000 range will cost about $1,800 annually.
Union County, while located just 15 miles north of Knoxville and within a short drive to the Great Smoky Mountain National Park is still very much a small rural community. "There is the feeling of community here. People help each other out, and people are friendly. Life moves at a slower pace here and is less stressful. There are lots of get-togethers – both planned and impromptu – which is fun (and generally fattening). We love the country living" says Shirlee who began researching her lake front retirement in the 1990s.