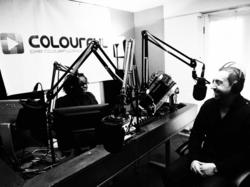 Identify what is going wrong, and then do something about it.
London, UK (PRWEB UK) 28 June 2013
Don't be a quitter. Stick with it. Try and try again. These are all solid nuggets of advice for many situations - the ability to stick with something through the bad times is important in both career and personal life but, sometimes, it is necessary to know when to move on. In advance of his next appearance on Colourful Radio on Tuesday 2nd July, Superstars founder Steve Hutson has some sound advice.
There are many reasons why a person might want to quit their job. Boredom, bullying, low pay or a sense of being unfulfilled can all contribute. Equally, one can find many reasons to stay put which are entirely valid - the state of the job market, fear of long term unemployment, loss of benefits or perks in a current position are just some of the things to consider.
"The first thing to do is to be rational," says Steve. "If you want to quit, you really do need to have a sit down and rationalise where you are right now.
"Identify what is going wrong, and then do something about it. If you cannot do something or circumstances do not allow you to do this, then it's time to say bye bye to your employer."
This may seem like a daunting process but there are some simple techniques that can make things simpler.
"It's vital to really understand where you are right now, so I tell my Talent to simply find a comfortable place to sit down and then write down three simple lists LOVE, HATE and GOALS.
"First, list what you have loved about this current role in the last 3 years, then the things which you hate and finally list what you want to be doing in 3 years time. List as many things as possible for each and really the ideas flow. It is amazing what discoveries will be made."
Simply considering these questions is an important process. It can help to clarify exactly what it is that is making changing jobs an appealing prospect.
If things seem difficult in a current role, it may be better to try to change that situation rather than leave it. Speak one-to-one with superiors in the company and voice any concerns - the results may be surprising.
"Remember, in this time of cost cutting and hiring freezes, companies are looking for resolutions within the team," says Steve. "It's very expensive to re-hire and train new talent, so they would much rather resolve an issue than lose you."
If the employer can't make the necessary changes to improve things or if, after building the pro / con lists, moving on feels like the only viable option, it's time to seek out and take advantage of personal support networks.
"Talk to your friends, family, colleagues and an mentor if you have one," Steve suggests. "If you don't have a mentor, speak to Superstars - we can offer you a Mentor through our site who can advise you on your career and offer you the benefit of their experience.
"Mentoring is a crucial part of the service we offer. I spend at least 50% of my time Mentoring my talent. That's something I love to give back to the community."
"If you have gone through this process and quitting is the only option, prepare yourself, "advises Steve. "Check your finances, start talking to other companies and be clear in your goals
"The key element to remember is this - you are a Superstar, you have skills and qualities that other companies would love. I have had the pleasure of helping literally thousands of you in my career, so go for it."
Steve Hutson will be back on Colourful Life with Jaxx on Tuesday 2nd July from 11am. You can listen live via the Colourful Radio website or catch up with Steve's previous appearances on the Superstars YouTube channel.
Superstars is based on a unique new staffing model that eliminates fees and margins forever. Clients work with Talent Managers to get the best staff for their needs and the Talent get amazing opportunities and the best support and mentoring in the industry.
Superstars' clients include BSkyB, Orange, Infosys and Radical Company with more being added all the time.
To find out more about Superstars' unique staffing model and how it can transform the way you hire staff, contact Steve Hutson - steve(at)homeofsuperstars(dot)com or visit http://www.homeofsuperstars.com