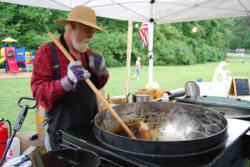 "We'll be sure to let our families and friends up here in Canada know how beautiful Norris Lake is." Guest of Beach Island Resort Marina
Maynardville, TN (PRWEB) June 28, 2013
Norris Lake, great vacations and fun events just go together in the summer.
Union County is home to multiple fun events to complement a great day on the water. Beginning in June and continuing through the fall, the Farmer's Market is open on Weds and Saturdays featuring locally grown produce, organic beef, crafts, and special events, Oakes Daylilies Festival held the last weekend in June will have on display over 1500 species in bloom. July will feature free fireworks at Beach Island Resort and Marina on the 5th and Red Gate Rodeo on July 12 and 13. In August, Big Ridge State Park hosts an annual Bluegrass festival on the third weekend. September provides another opportunity to "visit the farm" at Oakes with a Pumpkin Patch and Haunted Corn Maze. Music is also featured at the annual Luttrell Bluegrass Festival scheduled for September 21. Most of these events are free and all are handicap accessible.
Bubba Brews at Beach Island Resort Marina and Arjay's at Hickory Star Marina also are featuring live music, boat parking and patio dining. Dancing, corn hole, and people watching are activities enjoyed by the very young to the young at heart For individuals interested in testing their skills, fishing guide services are available at the marinas or consider renting a jet ski to explore the many coves found on Norris Lake.
Map guides for motorcycle rides, drive tours, historic/cultural exploration are available at the Union County Chamber of Commerce.