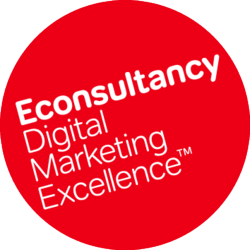 The winners produced memorable campaigns and measurable results in an industry that is quickly moving to the centre of business
London, UK –
28 June 2013 (PRWEB UK) 28 June 2013 -- Marketing industry leaders Econsultancy (http://www.econsultancy.com) and new media age (nma), last night hosted The Digitals 2013 at London's Grosvenor House Hotel, attracting a crowd of the UK's hottest digital talents.
It was a night of celebrations for brands and agencies including AOL, Barclays, Channel 4, Greenlight, Huffington Post, Kellogg's, Mischief PR, OgilvyOne – and many more – who fought off the competition to take home awards at The Digitals 2013 last night.
The category winners include ASOS for use of Twitter, McCann New York for the IKEA catalogue app, and AutoTrader.co.uk for their 'car drop' stunt. This year's Grand Prix winner is Barclays, for its PingIt technology, which also won in the category for best user and customer experience.
"There is so much excitement about what's being achieved in the digital sector – creatively and strategically," says Ashley Friedlein, CEO, Econsultancy. "The Digitals distils that into just one night when brands and agencies come together to celebrate each other's excellent work. We were all expecting brilliance, and this year's crop of Digitals winners have it in spades."
From nearly 1,000 entrants, this year's 20 award winners showed a depth and breadth of talent across industries, disciplines, platforms, and media: automotive to financial services, B2B to consumer products, mobile to social. Among them are familiar agency and brand names – as well as a host of newcomers – all at the forefront of digital strategy, creativity and technological innovation.
"The winners produced memorable campaigns and measurable results in an industry that is quickly moving to the centre of business," says Friedlein.
The Digitals' prestigious judging panel comprised digital experts from market leading companies including Citibank China, Dell, Deloitte, Selfridges, Moneysupermarket.com, Orange and Wonga, among others.
Econsultancy and nma thank all of the entrants, judges and sponsors for their support of the awards.
The full list of category winners is below. To see images from The Digitals 2013, and read more about the winners, visit the website at: thedigitalsawards.com
About Econsultancy
Econsultancy is a globally renowned information and capability development service for digital professionals. We help our clients seize the opportunities and meet the challenges of a digital world and connected consumers.
Every day, the world's most successful brands, supplies and agencies turn to Econsultancy resources – from our premium subscriptions, research reports, webinars, events and online content to our capability assessments, training, elearning and skills development programs – to transform their culture, build better teams, boost performance and deliver results.
Web: http://econsultancy.com
Twitter: http://twitter.com/econsultancy
INDUSTRY
Automotive
WINNER: Auto Trader.co.uk, New Car Drop
HIGHLY COMMEND: HookLogic, Launch of high-performing advertising opportunities for car dealers
B2B Sponsored by Chillicow
WINNER: OgilvyOne, The Gnome Experiment
HIGHLY COMMEND: Berwin Leighton Paisner, Do Amazing Things - Winning the war for talent
Charity & Not for profit Sponsored by Audience2Media
WINNER: 3 Sided Cube, Hurricane App
Consumer products & services Sponsored by Dynmark
WINNER: Mischief PR, The Tweet Shop
Financial Services
WINNER: City Index, The Trading Academy
Media & Entertainment Sponsored by Intent HQ
WINNER: The Project Factory and Tiger Aspect Productions, The Great British Property Scandal
Retail Sponsored by Exact Target
WINNER: Fast Web Media, FWM weatherFIT
HIGHLY COMMEND: Argos, The Multichannel Retailer
Travel & Leisure Sponsored by Sojern
WINNER: Drawbridge, Desktop-to-mobile retargeting campaign
PLATFORM
Ad Campaign
WINNER: AOL UK and Gravity Road, Conversations Start Here
Customer & User Experiences
WINNER: Barclays, PingIt
HIGHLY COMMEND: ASDA, The ASDA App
Email Marketing
WINNER: RS Components, Making email an essential part of our marketing mix
Mobile Marketing
WINNER: McCann New York, The 2013 IKEA Catalog App
Multichannel Marketing Sponsored by The Exchange Lab
WINNER: RS Components, Open-source Arduino starter kit launch
Performance Marketing
WINNER: Havas Media, Real time pricing project
Rich Media & Video Sponsored by TubeMogul
WINNER: Carat, Bodyform Responds: The Truth
Search Marketing
WINNER: iCrossing UK, Delivering revenue through non-brand search
Social Media
WINNER: ASOS, Interactive Twitter
Web Analytics & Optimisation
WINNER: Greenlight, A consumer segmentation approach to paid search campaign planning
SPECIAL
Rising Star
WINNER: Tom Wright, Head of Performance Trading, GDM Digital
Innovative New Technology Sponsored by Peer 1 Hosting
WINNER: Fast Web Media, FWM weatherFIT
Grand Prix
WINNER: Barclays, PingIt