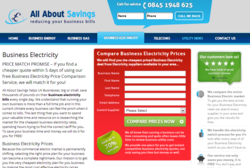 We have a proven track record of happy customers in which we have found amazing energy prices for. No matter what position your business is in we can help you too find.
Manchester, Greater Manchester (PRWEB UK) 28 June 2013
Due to the economic climate in the United Kingdom being highly unstable All About Savings, the UK's leading business electricity supplier comparison service, is urging businesses to use its no obligation business electricity comparison service in order to find the best priced gas supplier for their business
Sales & Marketing Manager, Maximillian Thornton says "With the British economy still unsteady, most business owners will be watching every penny very carefully and obtaining the cheapest electricity supplier for your business could mean you reduce your monthly outgoings quite drastically. We have been established for just over a year and in that period we have managed to help thousands of companies across the uk to compare electricity prices from all of the suppliers in the UK. We have a proven track record of obtaining the best possible prices for many companies and this has just been verified by a third party review company."
All About Savings specialises in helping companies of all sizes, from sole traders through to multi site businesses, obtain the best price for their business electricity because they believe that every business owner should have the opportunity to be able to compare different business electricity suppliers without the usual hassle of having to approach them all individually for quotes which is a very time consuming process.
Maximillian continues "Most of the people that use our business utility bill brokerage do so because they can't afford the time to obtain quotes from each supplier, one by one. It is a highly laborious process and one that most business owners aren't willing to undertake. As we offer a business electricity price match guarantee to our users they can be confident that they prices we offer them are the best in the marketplace and to back up our bold statement we offer the simple guarantee that if a user finds a cheaper quote within 5 days of getting one from us we will match it!"
Email: help[at]allaboutsavings.co.uk
Phone: 0845 1948 625
All About Savings
Warrant House,
No 1 High Street.
Altrincham
Cheshire
United Kingdom
WA14 1PZ
Website: http://www.allaboutsavings.co.uk/business-electricity/