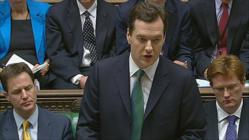 (PRWEB UK) 28 June 2013
Today, George Osborne announced more spending cuts that are due to come in to affect in 2015. One area that has been targetted is public sector jobs, 144,000 of which have been cut as well as a freeze on automatic pay rises. It has been said that the UK is through the worst of the recession however there certainly is a long way to go. Therefore, Britons continue to air on the side of caution when it comes to parting with their hard earned cash. Fortunately, Gymkit UK continue to provide a cheaper alternative to costly gym memberships so at least the UK population can stay active and healthy.
Pamela Game, Gymkit UK employee said, "Here at Gymkit UK we hope to help people set up home gyms in a cheap and easy way. It has certainly become apparent to us that due to the increase in the cost of living, people are not as willing to spend money on gym memberships that can cost up to £90 a month. We've seen a sharp rise in people looking to purchase items such as treadmills that mean that they can exercise at home without a monthly expenditure". Gymkit UK is a company that was formed 12 years ago by Managing Director Howard Braband. Howard attempted to set up his own home gym and found that cheaper fitness equipment that was designed for home us would not withstand his exercise requirements. He therefore wanted to provide people with affordable yet high quality gym equipment that could be installed in homes across the UK. Gymkit UK have been successful in doing so by sourcing second hand gym equipment from numerous health clubs and gyms. Such establishments are constantly looking to refurbish in order to lure in new members and subsequently, Gymkit UK obtain high quality fitness equipment that has only been in use for a couple of years.
Gymkit UK are based in Whittlesey, Cambridgeshire and on site have a warehouse that stocks over 5500 items as well as a showroom which is open Monday to Friday 8am to 6pm. Due to Gymkit UK's outstanding success, they now export internationally to countries such as Hungary and Romania. They are one of Europe's leading gym equipment suppliers and stock fitness equipment such as treadmills, cross trainers, rowing machines and exercise bikes. Once commercial fitness equipment is received by Gymkit UK, it is scrupulously checked by fully qualified service engineers to ensure that it is fully working and in the best possible condition that it can be. In more recent years, Gymkit UK have become the sole UK distributers for Teeter Inversion equipment which is a range of apparatus aimed at relieving back pain. Find us on Google+.