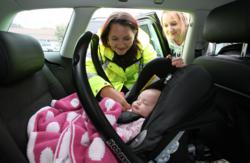 Edinburgh (PRWEB UK) 28 June 2013
The campaign, now in its twelfth year, is designed to ensure that babies and children are properly restrained while travelling in the car. The free clinics provide parents and carers the opportunity to have their car seats checked at a local clinic by a qualified expert.
The launch at IKEA Edinburgh, kicked off to a great start with 28 child car seats checked and many parents and carers seeking quality advice on in-car child safety. Road Safety Scotland and key representatives were in attendance for the launch.
Michael McDonnell, Director, Road Safety Scotland said, "This campaign not only highlights the dangers of carrying children incorrectly and the issues around choosing and fitting the correct child restraints, it also provides solutions using a variety of media. Not least of these are the car seat clinics, which allow parents and carers to have the child-car-seat combination checked by an expert."
In 2012, The Scottish In-Car Child Safety campaign checked 1,434 seats. Of those only 45% were correctly fitted , 30% had minor faults and almost 1 in 5 (18%), had serious faults. Almost 10% were incompatible with either the car or child.
The Scottish Good Egg In-Car Child Safety website also offers clear advice on buying a car seat and a comprehensive retailer charter. Retailers across the country are invited to join the initiative and are monitored to ensure that they ask the consumer questions crucial to the correct choice of car seat – for example the vehicle make and model, and the child's age and weight.
For more information on a clinic taking place in your local area, please visit the campaign website http://www.goodeggcarsafety.com/scotland/incar/show_all.