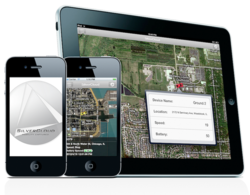 "Adding LandAirSea products to our suite of GPS tracking solutions enables Location Lock to meet the ever increasing needs of our customers," --Stephen Conroy, CEO
SAN ANTONIO, TEXAS (PRWEB) June 28, 2013
Authorized Trimble and MobileLock Dealer Location Lock, LLC recently announced they have become an authorized dealer for LandAirSea Systems, Inc. Stephen Conroy, founding partner and CEO, made the announcement during a Chamber of Commerce ribbon cutting ceremony for Location Lock. "Adding LandAirSea products to our suite of GPS (Global Positioning Systems) tracking solutions enables Location Lock to meet the ever increasing needs of our customers," noted Conroy.
One product, SilverCloud, is already creating interest within the market. A versatile GPS tracking device, the SilverCloud platform can be used for fleet management, law enforcement, and personal tracking. SilverCloud provides one of the fastest location updates (within 3 seconds), and accuracy is within 8 ft. The user friendly web-browser interface allows the customer to track a single vehicle or an entire fleet of vehicles from an internet-enabled computer or laptop without having to install or setup separate software. While the simultaneous 3-D and 2-D real-time GPS tracking is impressive, the iPhone and iPad mobile apps are creating a buzz with customers. Conroy expressed, "We're seeing a lot of excitement with both our fleet customers and the private investigation community. With businesses becoming more mobile, customers are wanting, or more correctly, needing applications allowing them to monitor without being in front of the desktop computer."
Conroy recognized early in the evaluation process LandAirSea could provide different solutions for his company's customers. Conroy contacted LandAirSea to discuss potential solutions for tracking small fleets and individuals. The conversation resulted in Location Lock adding LandAirSea products to their suite of GPS tracking solutions. Conroy stated, "Location Lock's mission is to bring our customers peace of mind by securing their assets through the company's GPS tracking technology. We always want what is best for the customer. If Location Lock does not have a solution in-house, we will go to the marketplace and find a viable technology for our customer to offer a comprehensive package."
About LocationLock, LLC
LocationLock is headquartered in Boerne, Texas, just a few miles northwest of San Antonio. The company is a specialized group of individuals called to make an impact in the business and technology sector. LocationLock's mission is to bring their customers peace of mind by securing their assets through the company's GPS tracking technology. LocationLock has some of the most robust and proven hardware/software in the GPS industry. The company's ability to deliver on these promises has enabled their customers to enjoy more peace of mind and maintain more productive operations.