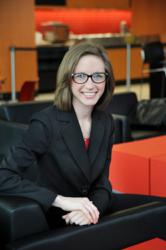 Chicago, IL (PRWEB) June 30, 2013
The Law Office of Timothy J. Fiscella is honored to welcome Alissa Neuman to the criminal defense team. Neuman was sworn in on May 9, 2013, has clerked at the law firm for over one year and started as a full-time attorney on Monday, May 13, 2013.
Neuman is a passionate and experienced new attorney who will add value to the entire firm. Neuman attended The John Marshall Law School, where she obtained Dean's List honors. As a law student, Neuman clerked for the Cook County Public Defender's Office. There, she gained invaluable criminal defense experience in the Felony Trial Division, working on cases involving charges of murder, narcotics distribution, weapons charges and driving under the influence of alcohol.
Due to the intensity and breadth of her defense experience, Neuman has developed skills that take many attorneys years to master. Her strong foundation will allow her to begin practicing as a full-fledged attorney at The Law Office of Timothy J. Fiscella right from the start.
Neuman's addition to the criminal defense practice will enhance the practice. The firm remarks that it is "very excited to have Alissa as a fulltime member of the office. She is going to be a great asset to the firm. She has unique experience in both trial and drafting of motions and appellate briefs."
About The Law Office of Timothy J. Fiscella
The Law Office of Timothy J. Fiscella aggressively pursues matters for each and every client who is charged with a crime. If you are looking for a strong criminal defense advocate, you should consult an attorney with experience that you can trust. For strong legal support, contact The Law Office of Timothy J. Fiscella at (312) 546-4885 or visit them online at http://www.tjfiscellalaw.com/.