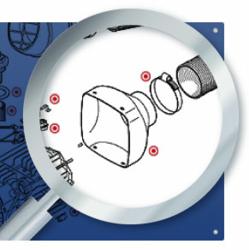 Lincolnshire (PRWEB UK) 30 June 2013
Butler Technik is pleased to announce the launch of their Easy Part Finder; a brand new feature on their website which helps you to find individual spares or parts for many of their products easily. This feature is solely designed to promote ease of use and convenience.
Butler Technik is committed to improving convenience and efficiency; something which is clearly visible in their new Easy Part Finder. This feature has become a critical component to the brand by improving the usability and functionality of the website. The Easy Part Finder makes sourcing parts and spares on the Butler Technik website a pleasurable experience as it is simple to work and clear to follow.
On some websites a consumer can find it difficult to find the product or part that is required and this lack of usability and clarity is something which can deter a customer from buying from that site. The Easy Part Finder is made up of several very simple components and drop down menus which allow customers to find spares and parts for the heater model quickly and easily. The simple and clear layout makes finding what is required simple and means that the items can be sourced allowing the purchase of exactly what is needed instantly.
Butler Technik has a great selection of high quality branded equipment parts which can be found through the Easy Part Finder. These accessories and parts are sourced only from reliable and reputable manufacturers who pride themselves on value for money and product standards. The Easy Part Finder works simply by using a simple drop down menu system which gives the user a selection of parts and models to choose from. When the user clicks on a product or model the finder will instantly take the user to that specific part where it can be purchased easily. What's more, the finder will give the user a selection of other similar parts for that model which may be of interest to, allowing anyone to find related components easily. The Easy Part Finder makes it easy to find individual spares and parts for a great selection of products on the site because it allows anyone to choose and control what product parts are being looked for to help find them instantly.
About Us
Butler Technik specialises in providing high quality branded equipment to the transport, marine and leisure industries. They are an innovative and forward thinking company who is committed to giving customers an easy and efficient way of sourcing the equipment, parts and spares. Butler Technik has worked hard to improve the cost and convenience offered to their customers by shortening their supply chain. This has been achieved by sourcing products only from professional and reputable manufacturers from the UK and Europe.