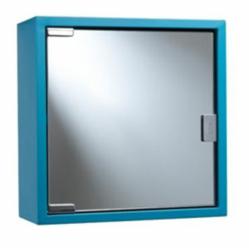 Many of us find fitting a new bathroom cabinet difficult and time consuming
Grimsby, N.E.Lincolnshire (PRWEB UK) 30 June 2013
Asturias Bathrooms is proud to announce the launch of their new range of Croydex bathroom cabinets and bathroom accessories to their excellent range of existing products.
Asturias Bathrooms are committed to supplying bathroom fixtures and accessories which incorporate safety, style and simplicity. Their decision to include Croydex bathroom cabinets and bathroom accessories evidences their dedication to sourcing and supplying simple and stylish products which have the capacity to transform any bathroom space.
Jon Francis for Asturias Bathrooms added, "Many of us find fitting a new bathroom cabinet difficult and time consuming. Often this is because traditional cabinets have complicated fitting mechanisms which means that assistance is often required because an individual putting up a cabinet would likely struggle. This difficulty stems from the fact that the cabinet has to be held in place and kept level whilst marking and securing it to the wall."
Thankfully Croydex have successfully developed a simple and innovative 'Hang 'N' Lock' cabinet fitting system which allows anyone to secure a cabinet to your bathroom wall simply and safely. This simple and effective feature works by using a specially designed bracket which is fixed to the wall instead of the actual cabinet. This removes any complication and difficulty when it comes to measuring distances and marking screw holes whilst supporting a heavy bathroom cabinet.
The Croydex 'Hang 'N' Lock' has been designed to make the task of fitting a bathroom cabinet as easy as possible. Included in their carefully developed system, Croydex have included innovative features which promote simplicity when fitting a cabinet. With each bathroom cabinet a paper template is supplied which makes positioning and marking simple. What's more the bracket has an in-built spirit level which allows positioning of the cabinet perfectly. Rotation cams on the bracket mean that the cabinet is totally adjustable and this makes attaching the cabinet to the wall incredibly easy.
About Us
Asturias Bathrooms is the latest addition to its parent company which specialises in the design features and installation fixtures of bathrooms, shower rooms and en suites. They offer a dedicated service to a wide customer base whilst providing an outstanding product range which consists of well-known and innovative brands.
They have 31 years of experience in offering a reliable standard of customer service and satisfaction and understand the trends and popular styles which consumers want in their bathroom spaces. Through the support and expansion of its parent company, Asturias Bathrooms has successfully established itself as a reputable supplier of stylish, functional and innovative bathroom fittings and fixtures to suit every need.