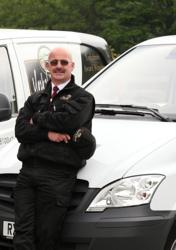 Bedale, North Yorkshire (PRWEB UK) 28 June 2013
Following a successful first half of the year and high confidence in the strength of the company, Yorkshire Dales Meat Company has recently undertaken a program of internal investment.
The Yorkshire Dales Meat Company has invested in a new fleet of temperature controlled vans as it looks to continually improve the service it offers to the prestigious hotels and restaurants it serves, including prompt and flexible delivery, specialist sourcing and menu development services.
The company has also invested in a second installation of solar panels following the success of an initial installation in 2012, carrying on the company's commitment to minimising its impact on the environment. Yorkshire Dales Meat Company has also created a two and a half acre broadleaved woodland and a three and a half acre trout lake on the company's premises to further offset its carbon footprint.
The recent investment comes after a 30% increase in sales of its products in ASDA stores as a result of the horsemeat scandal as consumers are increasingly looking to buy meat products from trusted sources. This increase in sales has also lead to Yorkshire Dales Meat Company's range of high quality meat produce being stocked in an additional 16 stores across the North East of England.
James Knox, Finance Director, Yorkshire Dales Meat Company, said: "This investment comes after a really positive few months, with a greater number of ASDA stores stocking our produce and an increase in sales.
"Our new fleet will also enable us to continue providing the best possible service to the chefs we work with, providing prompt and reliable delivery service on all orders as well as using our many years experience to provide our customers with a specialist menu development service.
With consumers increasingly focused on food provenance we are in a great position to say with confidence that all our produce is sourced from suppliers we know and trust and who share the same values we do."
Yorkshire Dales Meat Company was set up in 2004 by Stephen Knox, as a way of marketing and selling his own brand of quality meat. The company has rapidly expanded and now supplies prestigious hotels, restaurants and event venues, as well as ASDA stores across Yorkshire and the North East of England with a range of burgers, sausages, meatballs, steaks and bacon. They have recently welcomed Becket's Bar and Grill on board. Based in the centre of Knaresborough, Becket's prides itself on delivering fresh, local product with exceptional customer service.
~ends~