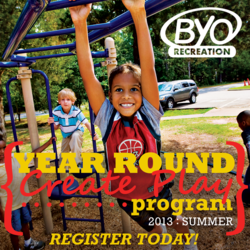 St. Augustine, FL (PRWEB) June 28, 2013
BYO Recreation started its Annual $1 Million Create Play Fund two years ago with the vision of "Creating Play" spaces that are safe and exciting for children everywhere, regardless of budget constraints. This innovative playground fund has been instrumental in helping hundreds of children's facilities in every corner of the country create play environments where none would have been previously available. This program and fund has been central to BYO's belief in the positive value of play in a child's life.
In the past, BYO has only been able to administer this fund once a year during the spring. However, after experiencing the gratifying success of the fund over the past two years, BYO is pleased to announce the establishment of a year round Create Play Program.
At the beginning of every quarter, BYO will work with its manufacturing partners to establish a limited selection of brand new playground structures that are eligible to receive matching fund grants from BYO's Create Play Program. Facility owners can go online and register to receive a matching fund grant on http://www.byoplayground.com. By registering, facilities will be eligible to receive a matching fund grant for half of the retail price of a limited selection of high-quality, made-in-the-USA playground structures. These structures have been specifically engineered by our playground designers to offer the maximum play value for the minimum budget. These value engineered designs, combined with our new, year-round matching fund, put a playground within the reach of virtually any children's facility.
Now, instead of only once a year, BYO will offer a new selection of playground structures and matching funding every quarter. This allows for maximum reach of the program throughout the year and therefore maximum "Play Creation". The next round of funding is available starting Monday July 1, 2013.
About BYO Recreation
Headquartered in St. Augustine, FL, BYO Recreation is one of the most comprehensive and fastest growing recreational equipment suppliers in the world. Since 1999, the company has helped thousands of schools, churches and communities create recreational spaces that are truly Beyond Your Ordinary. For additional information about BYO Recreation, visit http://www.byoplayground.com.