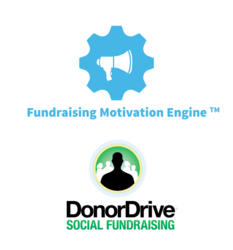 DonorDrive's Fundraising Motivation Engine and Mobile Product Release is a game changer in peer-to-peer fundraising.
Cincinnati, Ohio (PRWEB) June 28, 2013
DonorDrive Social Fundraising software has announced the release of the Fundraising Motivation Engine™, a free product upgrade for all DonorDrive clients that aim to turn supporters into better fundraisers for nonprofit organizations by automatically coaching supporters based on actions they have or have not taken in the system. Clients can automate this outbound communication from DonorDrive by configuring smart notifications that will get sent through email, Facebook, Twitter and text messages to guide fundraising behavior and broadcast success on behalf of participants. This deep social media integration is not available in other online fundraising software offerings and provides nonprofits more control over the social conversation about their brand and fundraising initiatives than they have ever had before.
Nonprofit staff no longer need to spend time running reports and searching for participants that need help with team recruitment efforts or fundraising. Instead, staff can configure criteria or schedules for DonorDrive to automatically communicate with supporters. These new features in the Fundraising Motivation Engine give organizations more time to work on their mission since they'll spend less time managing their fundraising technology. As a result of the Fundraising Motivation Engine, organizations are seeing their supporters become more engaged with the cause and most importantly—raising more money than ever.
This innovative product release also comes with redesigned fundraising tools, including a responsive mobile administrative area so DonorDrive clients can manage their social fundraising websites on mobile devices like iPad, Android or Windows tablets. No mobile apps or downloads are needed to manage their events, campaigns, reports, and even website content. In addition to mobile administrative tools, all existing DonorDrive client websites are currently moving to responsive designs at no cost. Now participants can fundraise on the go and anyone can donate from a mobile device directly on the website, without needing to download an app. These innovations are also extremely user friendly and will drive more conversions for nonprofits using the platform. Clients don't have to understand code or web design and don't have to manually configure anything themselves—now mobile websites are built in to the product. All new DonorDrive websites are responsive from the start at no additional cost.
When adding mobile-accessible tools to the time saved by the Fundraising Motivation Engine, it's easy to see why so many organizations, including Children's Miracle Network Hospital, Doctors Without Borders and ASPCA, are building their fundraising programs on DonorDrive.
DonorDrive® is truly effective software dedicated to event-based social fundraising for medium and large non-profits. Children's Miracle Network Hospitals, Doctors Without Borders, JDRF Canada and Team ASPCA are a few of the causes that use DonorDrive Social Fundraising software for their runs, walks, rides and virtual campaigns to engage constituents and maximize donations. Every year, people are raising millions for great causes through DonorDrive. Learn more at DonorDrive.com.