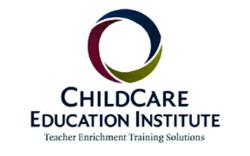 This new course provides a thorough explanation on why play is so important and ways in which more play can be incorporated across the curriculum.
Duluth, GA (PRWEB) June 28, 2013
ChildCare Education Institute (CCEI), an industry-leading distance training provider, announces CHD104: The Importance of Play! as the newest addition to the CCEI catalog of 100+ online child care training courses.
Research shows that young children often do not have enough time during the day to play. Many factors contribute to the loss of playtime, but one thing is certain: play is essential for optimal development. Play promotes nearly everything developmental across physical, cognitive, social, and emotion domains. It helps with memory retention, vocabulary, motor skills, processing visual stimuli, and much more.
Upon completion of this course, participants should be able to demonstrate an understanding of how play develops executive brain functions, promotes problem-solving, and encourages cognitive development. Other topics covered include Parten's Six Stages of Play, early infant play, passive entertainment, play structure, and defining different types of play.
"Playtime is necessary to promote creative, explorative, and innovative thought," says Maria C. Taylor, President and CEO of CCEI. "This new course provides a thorough explanation on why play is so important and ways in which more play can be incorporated across the curriculum."
This course is a two-hour, beginner-level training, available for purchase through online enrollment now. CCEI students with active, unlimited individual or center-based subscriptions can enroll in this course anytime at no additional cost when logged in to their account. Once the course is concluded successfully, students will receive 0.2 IACET CEUs and have access to the certificate of completion.
All CCEI training coursework is self-paced, which allows CCEI students the ability to resume courses at the exact point where they signed off previously. For more information on ChildCare Education Institute, visit http://www.cceionline.edu or call 1.800.499.9907, Monday – Friday, 8 am – 5 pm EST.
About CCEI
ChildCare Education Institute provides high-quality, online professional development courses and programs for educators in an array of child care settings, including family child care, preschool centers, prekindergarten classrooms, nanny care, and more. Over 100 English and Spanish child care training courses are available online to meet licensing, recognition program, and Head Start requirements for professional development. CCEI also has online certification programs that provide the coursework requirement for national credentials including the CDA, Director's Credential, and Early Childhood Credential. CCEI is nationally accredited by the Accrediting Commission of the Distance Education and Training Council (DETC), approved by the International Association for Continuing Education and Training (IACET) to award IACET Continuing Education Units (CEUs), and authorized under the Nonpublic Postsecondary Educational Institutions Act of 1990, license number 837.