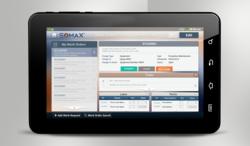 We hate stagnation. We can't stand waiting around...
Alpharetta, GA (PRWEB) June 30, 2013
SOMAX, Inc. has announced the official launch of their new native mobile CMMS / EAM application for Android based smartphones and tablets. This groundbreaking app is scheduled for an official September 1, 2013 release date.
"We are incredibly excited about the release of our mobile app," said Brent Easterling, COO of SOMAX, Inc., "To be in the position to continuously improve our solution, and to stay on the forefront of asset and maintenance management software technology has always been our goal. By offering clients a true Android app we have taken another step in that process."
With a streamlined interface designed to seamlessly blend form and function, the SOMAX CMMS / EAM app transcends traditional maintenance software and continues to push the boundaries of an industry that has seen large, clunky desktop software dominate for so many years.
Coming on the back of SOMAX, Inc's announcement of the release of their multi-platform, pure cloud asset and maintenance management solution, the release of their mobile app shows once again that SOMAX is not resting on their laurels.
"We hate stagnation," stated Easterling, "We can't stand sitting still and waiting for the next big thing to happen. So what we've done is gone out, listened to our client base, heard what they had to say, and tried to create a solution that performs most closely to what they need out in the real world."
The SOMAX app features several innovative functionalities, including the ability to quickly snap a picture of a maintenance issue from your Android device and attach it to a work order, the ability to sort and sift work by personnel, location, site and other criteria for quick access to begin and complete work, and the option to add a work request to the SOMAX system via Android device, simplifying tenant maintenance requests while empowering tenants and maintenance crew to communicate like never before.
SOMAX is based in Alpharetta, Georgia, was founded in 1988. The company was founded on the idea of utilizing its more than twenty years of information management experience in engineering management, maintenance and purchasing systems to create an the most advanced maintenance, inventory and purchasing management program. The founders took advantage of their experience in worldwide application in power industry, automobile manufacturing, military systems, chemical process and the pharmaceuticals to create our product which carries the same name as the company, SOMAX.
Read more at http://www.somax.com, or connect directly with a SOMAX representative at 1-800-673-0961 or by email at info(at)somax(dot)com.