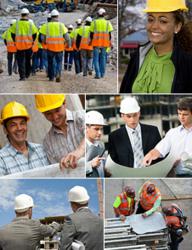 Our partners are leaders in their fields and all of them have so much to offer our members.
Austin, TX (PRWEB) June 28, 2013
The Co-Founders of the online hiring and networking site ConstructionConnection.com announced a new effort to promote their partners and educational resources. Co-Founders Suzanne Breistol and Kent Leighton are working with the Construction Connection Partners to offer site members tools and business solutions to improve their business practices and run their construction companies more efficiently.
The site was originally planned as an online community, targeting small to mid-sized construction companies that make up over 90% of the construction industry. The site offers them a place to go for education, encouragement and introductions to others for business success. The initial launch was focused on giving individuals a resource for finding construction jobs and giving construction companies a resource for finding qualified construction professionals. At the same time, the site was intended to introduce members to factual information and knowledgeable industry associates to help them find encouragement and success.
Through a simple registration process and taking time to complete a free profile, as outlined in this Construction Connection video, individuals can become a part of this near 50,000 member community and gain access to resources including available construction jobs, educational articles, discussion groups and more. Similarly, construction companies can join the construction community site for free and post detailed jobs for superintendents, project managers, engineers, heavy machinery operators, cost estimators and any other position they might need. Companies also enjoy SEO enhancement, management templates and tools, toolbox talks and more. The site's unique patent-pending job matching tool will then match qualified individuals with jobs that meet their skills and experience. The job-matching tool was developed to make the hiring process more efficient for both employees and employers.
In the beginning, the educational resources and job-matching tool were the main focus of Construction Connection. With the addition of their partners program and continued mission of helping businesses flourish, Breistol and Leighton have been able to vastly expand the level of information and services offered to their members and the construction industry.
"Our partners are leaders in their fields and all of them have so much to offer our members," says Breistol. "We've partnered with business consultants who specialize in the construction industry, construction software providers and analysts who can help you choose the right software solutions and train you on how to use them, MEP engineers who are working with ground breaking technology, wage compliance and benefit consultants who can help business owners afford healthcare and retirement plans for their employees and so much more. That's why Kent [Leighton] and I are so passionate about connecting our members with our partners."
Breistol and Leighton are extremely hands-on business owners. If a member of their construction community is having trouble finding the right job, they do not hesitate to get involved and help however they can. This partnership campaign is no different. At recent events for the National Association of Women in Construction (NAWIC), Service Corps of Retired Executives (SCORE) and the American Society of Professional Estimators (ASPE) the proactive team took to the stage to get the word out about their educational and professional resources available through their site. Leighton and Breistol also directly introduce partners to company members that they are assisting through their Consulting Simplified services.
"Our members already know they can post and look for construction jobs on our site. We want them to know they can find other business solutions here, too," Leighton explains. "Suzanne [Breistol] and I both spent many years working for construction companies, so we know the struggles small and mid-sized business owners face in our industry. It's our goal to help these companies improve their business strategies and find the solutions they're looking for, or maybe the solutions they didn't even know they were looking for."
The duo will continue to promote the partners, their services and resources both online and off. Updates and news are posted on their blog and via social media sites Facebook, Twitter and LinkedIn. Leighton and Breistol will also be speaking at more events later in the year in addition to offering their private consulting services. Through this campaign, the Co-Founders hope all of their members will know that they can use the construction industry site for much more than finding and posting construction jobs.
ConstructionConnection.com was created out of a need for a more effective and streamlined way for construction industry professionals to get matched with the right industry jobs and with the right industry opportunities. The partners of Construction Connection, both industry professionals themselves, listened to both company and individuals' dissatisfaction with the traditional job boards, the paid resume blasts, the overpriced resume services and overall lack of sympathy toward the individual candidate. They listened to the dissatisfaction from companies who post jobs only to get many irrelevant results or having to purchase high priced ads to showcase their company. Construction Connection is a patent-pending, one-of-a-kind profile creating / match-making system. The system delivers effective results. Construction Connection saves you time, money and aggravation by matching people to people, people to companies, companies to people, and company to company.