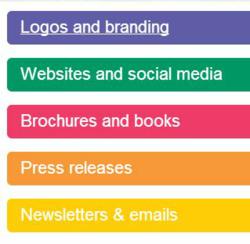 Our arrangement with Vivalogue ensures that both our print and electronic newsletters are consistently produced in a timely manner and to an exacting professional standard
Vancouver, BC, (PRWEB) June 28, 2013
In response to market demand, Vivalogue has developed a series of print and online communication services tailored to the needs of small and medium-sized businesses. Vivalogue works with each client to develop a customized, fully integrated program which addresses the specific challenges of their business. Services include logo design and branding, websites and social media, brochures and books, press releases and newsletters, both printed and electronic.
Partnering with Vivalogue allows companies to enhance their professional profile and attract new customers without diverting staff resources from core business activity. Vivalogue managed the corporate re-branding of Preston Baker, an award-winning UK estate agency, and continues to manage customer communication via weekly newsletters. "Our arrangement with Vivalogue ensures that both our print and electronic newsletters are consistently produced in a timely manner and to an exacting professional standard," said Managing Director Ian Preston. "Having them also design our advertisements and write our press releases ensures that our corporate profile remains clear and consistent."
Kids Camps Canada wanted to publicize its service but did not require a full communications package. Vivalogue wrote a single press release and delivered it to individually selected media outlets with a specific interest in activities for children and youth. "I could never have found and contacted those journalists on my own," said Kids Camps Canada director Magda Figueredo. "That single press release did more to promote my business than a full advertising campaign would have done."
"We are excited about the opportunity to help other companies achieve their objectives," said Vivalogue director Lynn Duncan. "We are confident that we can deliver unparalleled value by offering a 'one stop shop' solution to common business problems."
About Vivalogue Publishing
Vivalogue is a communications company offering publishing, branding and fundraising services to individuals, businesses and non-profit organizations in Canada and the United Kingdom.
For Media inquiries, contact:
Lynn Duncan
Vivalogue Publishing Canada Ltd.
604-522-6222/604-512-9997
lynn(at)vivalogue(dot)com