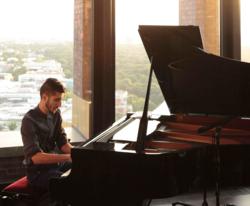 Berlin, Germany (PRWEB UK) 28 June 2013
On 27 June, the German office of The European Azerbaijan Society (TEAS) invited an audience of around 300 people, around half of which were Bundestag members, in addition to diplomats, music journalists, jazz fans and members of Berlin society, to travel on the fastest lift in Europe before experiencing the remarkable talent of 23-year-old Azerbaijani pianist Isfar Sarabski. The winner of the piano prize at the Montreux International Jazz Festival 2009, he gave an outstanding concert at Panoramapunkt, located 24 storeys (100m) above the bustling streets of Potsdamer Platz in the heart of Berlin. The concert came just over a month after Isfar and the other members of his trio – Makar Novikov (bass) and Alexander Mashin (drums) – appeared at the prestigious A Great Night in Harlem benefit concert at the Apollo Theatre, New York, organised by the Jazz Foundation of America, where he shared billing with Elvis Costello, Macy Gray, Danny Glover and Long John Hunter, amongst others.
Isfar's programme included his own variations on Tchaikovsky's 'Swan Lake Ballet'; a swinging version of 'Some Day My Prince Will Come' from the Disney film 'Snow White and the Seven Dwarfs'; his own arrangement of the Azerbaijani folk song 'Zibeyda'; the passionate 'Oblivion' by Argentine composer Astor Piazzolla; and a dazzling version of Rimsky-Korsakov's 'The Flight of the Bumble Bee', which segued into 'G Man', his own composition. Isfar played a number of his own pieces, inspired by his homeland and extensive touring schedule, such as 'Novruz' and 'Transit to New York'.
Leslie Nachmann, Presenter, Pro7 TV, and Chief Presenter, JazzRadio said: "When I first became aware of Azerbaijani jazz, I was surprised by the active jazz scene in the country and the level of its appreciation by the public." She went on to speak about the long tradition of Azerbaijani jazz and its connection with traditional Azerbaijani mugham music, which similarly features a high level of improvisation. Leslie also announced that she would be presenting a special feature news item for JazzRadio exploring the roots of jazz-mugham.
Shahin Namati-Nasab, Director, TEAS Germany, said: "Tonight's concert is taking place in an unforgettable location, and it seems most appropriate that we have all just travelled on the fastest lift in Europe, which could be seen as representing the very rapid economic development of Azerbaijan. The location of Panoramapunkt in the redeveloped Potsdamer Platz, which was divided by the Berlin Wall, is also symbolic. Azerbaijan is a nation that has evolved out of the shadow of the Soviet era since regaining its independence, and been transformed out of all recognition.
"Music is an integral element of Azerbaijani culture, and mugham music developed in the Nagorno-Karabakh region of the country. This has now been under Armenian occupation for nearly 20 years, causing 875,000 Azerbaijanis to become Internally Displaced Persons (IDPs) and refugees. On 20 June, UN World Refugee Day was commemorated, and I dedicate this concert to the IDPs and refugees from Azerbaijan and that they may achieve their wish to return home."