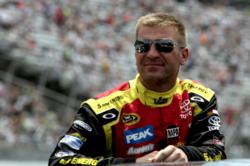 (PRWEB) June 28, 2013
As the NASCAR Sprint Cup Series approaches the season's half-way point, 5-hour ENERGY® is pleased to announce its driver Clint Bowyer continues to stay in the chase for NASCAR's post season. Currently, Bowyer is third in points, advancing four spots from the seventh place ranking he had at this point in the 2012 season. So far in 2013, Bowyer has had four Top 5 finishes and eight Top 10 finishes.
In support of Clint Bowyer, and to keep the racing fun going throughout the week, 5-hour ENERGY® sponsors a variety of racing themed contests. Stay up to date with 5-hour ENERGY®'s contest page to get involved with contests, sweepstakes, giveaways and more. There's still time to enter the 5-hour ENERGY® Race Reporter Sweepstakes. One lucky winner and a guest will win travel and accommodations to Charlotte, North Carolina to receive the VIP racing experience of a lifetime. The winner will receive a garage and pit tour, watch the race from a pit box, a trip to the NASCAR Hall of Fame, meet Clint Bowyer and Michael Waltrip and more. Sweepstakes ends on July 31, 2013.
The 5-hour ENERGY® Racing Scavenger Hunt Contest is another ongoing contest. Fans are invited to search the 5-hour ENERGY® website and Social Media channels, as well as Clint Bowyer's website, to find 15 different racing codes. After finding all 15 codes, participants can enter them via the contest code entry form to be entered into a random drawing to win a one-year supply of 5-hour ENERGY® and Clint Bowyer gear. Participants can increase the odds of winning by searching for additional bonus letters hidden each month. The bonus letters will spell out a message that can be entered on the bonus entry form for an additional 10 entries into the random drawing at the end of the racing season. Contest ends on November 18, 2013.
The 2013 season has been a wild ride so far and there is still plenty of 5-hour ENERGY® Racing gear left to be won! Don't forget to enter the exciting contests we have going on for our racing fans, and always be on the lookout for popup giveaways via our Social Media channels! Congratulations to Clint Bowyer and the rest of the 5-hour ENERGY® Racing Team on the #3 Sprint Cup position and best of luck with the remainder of the season!