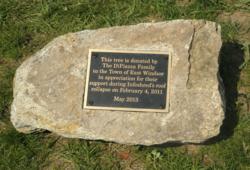 The Town of East Windsor should be proud of the help your people offered to support a local business in our time of need.
East Windsor, Conn. (PRWEB) June 30, 2013
Infoshred, an East Windsor-based company devoted to secure off-site and on-site document destruction and document storage, recently donated a tree to the Town of East Windsor in appreciation for their support offered during the company's tragic roof collapse in February 2011.
"This tree signifies a re-growth of Infoshred's records storage division," said Stacey DiPiazza, owner, Infoshred. "It is a token of appreciation to the Town of East Windsor."
Denise Menard, first selectman, East Windsor, said that during the October 2011 snowstorm, East Windsor Town Hall lost its beautiful flowering pear trees. "It is great to have some of our landscape restored and we are certainly thrilled to see Infoshred restored as well," Menard said.
Infoshred received on-going assistance and support from the Town of East Windsor, amidst the challenging times during and following the partial collapse of their 50,000-square-foot facility. In particular, Town Fire Marshal Christy Delvey and Building Official Rand Stanley offered their guidance as well as expertise and helped Infoshred persevere through this difficult event.
"The Town of East Windsor should be proud of the help your people offered to support a local business in our time of need, "said Jack DiPiazza, general manager, Infoshred. "You were able to help lift us up from the ashes of our devastation and assist in making us whole again. Thank you from the bottom of our hearts."
For more information, visit http://www.infoshred.com or call 888.800.1552.
####
About Infoshred
Infoshred, LLC provides secure on-site and off-site document destruction services, records storage, product and media destruction, and disintegration of microfilm, microfiche, pill bottles and ID cards. It has been providing secure document destruction and records storage services in Connecticut, Rhode Island and Massachusetts since 1993. Located in East Windsor, CT, the company is a charter member of NAID, the National Association of Information Destruction, and maintains a NAID certification rating, for security, compliance and customer service. The company is a State of Connecticut certified Minority/Woman-Owned Business. Infoshred has a 50,000 sq. ft. facility adjacent to its shredding plant that can securely store 500,000 boxes and is the winner of the 2007 Gold Award for Best Document Destruction Company by the readers of The Connecticut Law Tribune. For more information see http://www.InfoShred.com.