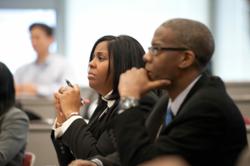 (PRWEB) June 28, 2013
Howard University will host a graduation ceremony to honor the inaugural class of the School of Business Executive MBA (EMBA) program at 6 p.m. on Monday, July 1, in the Blackburn Center Hilltop Lounge on the main campus.
The groundbreaking online EMBA program combines Howard's heritage with the prestige of the School of Business. Howard University will award degrees to nearly two dozen candidates, all of whom continued to hold senior business positions while completing the 18-month program.
"We are excited about the potential future involvement of our new EMBA alumni in supporting the strategic growth and prominence of the School of Business," said Kim R. Wells, director of Executive Education at the Howard University School of Business. "We look forward to their participation in alumni events, critical fundraising initiatives, global education programs, establishing new businesses and industry partnerships, and mentoring rising business leaders in current School of Business undergraduate and graduate programs."
On average, members in the graduating EMBA class have 15 years of executive experience. They are leaders in a wide range of fields, including banking, consulting, information technology, telecommunications, education and Armed Services. Several executives in the graduating class have received major promotions and contracts during the program.
The rigorous online Howard Executive MBA is designed to provide accessible management education to those who work full-time but also have the desire and drive to obtain an executive graduate degree. The program, launched in the fall of 2011, provides a comprehensive understanding of industry and prepares individuals to strategically think and act from the perspective of senior leadership.
About the Howard University School of Business
The prestigious Howard School of Business is accredited by AACSB International and has been ranked among the top U.S. business schools by Bloomberg BusinessWeek. The Princeton Review has consistently ranked Howard's MBA program as the top business program (#1) for the "Greatest Opportunity for Minority Students." As a result, business professionals will receive instruction from the distinguished Howard School of Business faculty and will join a global network of alumni executives.