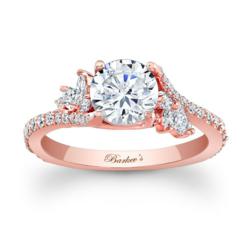 Los Angeles, CA (PRWEB) June 29, 2013
Recognized as a preeminent 20 designer, Barkev's brings fine American creations to jewelry lovers everywhere. Guided by strict crafting standards and an eye towards exceptional beauty, the rose gold collection thrives alongside the design house's popular Black Diamond and Starnish collections. Barkev's designers have artistically married old world elegance with contemporary whimsy in this collection, giving the rings a unique look unmatched by other designers.
Barkev's Latest Rose Gold Engagement Ring – A crowning achievement in the world of fine jewelry, style 7908LPW features 14K rose gold with a beautiful prong-set round cut center diamond. A bevy of round diamonds cascades delicately around the shank for an extra touch of luxury while a pair of brilliant marquise cut diamond clusters flare gracefully on each side of the center stone. This exquisite creation represents the high standards that go into each and every piece of jewelry available through Barkev's jewelers.
About the Rose Gold Collection – The standout features of Barkev's rose gold collection include gorgeous split shanks encrusted with diamonds, uniquely shaped shanks that cradle the centerpiece stones and creative filigree that enhances the beauty of each piece. Made in the United States from fine 14K rose gold, each ring boasts careful craftsmanship to precise specifications. Created with a focus on artistry, artistically arranged diamonds showcase the natural beauty of each ring. For a particular occasion or just because, Barkev's rose gold rings have the uncanny ability to reflect the wearer's unique personality and inner beauty.
About Barkev's:
Founded in 1981, Barkev's strives to offer only the finest quality in engagement rings and fine quality jewelry. From initial conception to the design phase to final manufacturing, each item comes directly from Barkev's factory located in Los Angeles, California. With an ongoing commitment to total customer satisfaction, Barkev's is pleased to offer personalized service and customer support along with its exceptional line of fine jewelry. Visit http://www.barkevs.com to browse a large selection of unique rose gold and diamond jewelry. Follow us on Facebook and Pinterest.