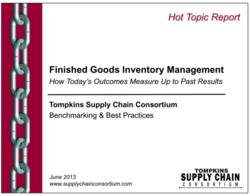 Raleigh, NC (PRWEB) June 28, 2013
Finished goods inventory practices have been on the upswing since 2010. A new report, "Finished Goods Inventory Management: How Today's Outcomes Measure Up to Past Results," published by the Tompkins Supply Chain Consortium reveals improvements in this area throughout the past three years.
"While business conditions are not back to where they were before the Great Recession hit in 2008, companies have been strengthening their finished goods inventory processes," says Bruce Tompkins, Executive Director of the Consortium and author of the report.
The survey-based report shares analyzed responses from supply chain executives at retail, manufacturing and wholesale/distribution companies. A few of the key findings include:

In 2013, the supply chain functions that are charged for or own finished goods inventory are Inventory Management, Manufacturing, and Procurement; this differs considerably from previous years when Executives, Forecasting, and Sales played larger roles.
Most companies now have a sales and operations planning (S&OP) process in place.
Geography now plays a stronger role in controlling inventory, with a percentage increase from 17% in 2012 to 26% this year.
However, several areas still require attention. "Improvements in processes are necessary for finished goods inventory to be reduced further," explains Tompkins. "In this year's survey, processes ranked first as a key area for improvement."
Companies are also seeking stronger collaboration and shared responsibility for setting finished goods inventory targets, accountability for inventory levels, and who is charged for/owns inventory.
To learn more about how past results compare to today's status on finished goods inventory, read the full report here.
About Tompkins Supply Chain Consortium
Tompkins Supply Chain Consortium is the premier source for supply chain benchmarking and best practices knowledge. With more than 350 participating retail, manufacturing and wholesale/distribution companies, the Consortium sponsors a comprehensive repository of over 10,000 data points complemented by search capabilities, online analysis tools, topic forums and peer networking for supply chain executives and practitioners. The Consortium is led by the needs of its membership and an Advisory Board that includes executives from Domino's Pizza, GlaxoSmithKline, Hallmark, Ingram Micro, Kane is Able, Miller-Coors, The Coca-Cola Company, Target and University of Wisconsin. To learn more about how your company can become a member of the Supply Chain Consortium, contact John Foley, 919-855-5461 or visit http://www.supplychainconsortium.com.
Register for the 2013 Tompkins Supply Chain Leadership Forum, August 26-28, in Atlanta. Registration is open to supply chain executives of retailers, manufacturing companies, and shippers. Click here to register or learn more about the forum.