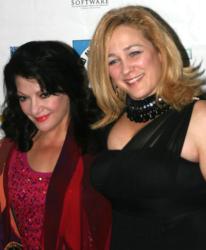 "There was an eclectic array of music genres presented and clearly Irina's music video was an audience favorite." -Susan Johnston, Director New Media Film Festival
Los Angeles CA (PRWEB) June 30, 2013
There is a buzz on the Awards Show and Film Festival circuit about legendary songwriter Irving Berlin's music video sung by International Artist Irina Maleeva which is Track One of her worldwide CD release, Illusions being sensational.
Irina Maleeva is a true multifaceted international performer. Born in Bulgaria, the daughter of a famous stage actress & an aristocratic Italian statesman, Ms. Maleeva, who speaks seven languages, first established herself as a child performer in Bulgaria.
As a teenager, Irina was discovered by the great Federico Fellini & performed in three of his movies. With degrees in painting & set design from Accademia di Belle Arti in Rome, studies at the Cinecitta Drama Film School & RADA in London, she received the training that propelled her into a successful worldwide career in films, records, television, stage and cabaret.
Her motion picture roles have been with the giants of the film industry, including a lead with Orson Welles in "The Merchant of Venice," and roles in Fellini's "Satyricon, "Spirits From the Dead" and "Roma." She also worked with directors Luchino Visconti and Roberto Rossellini. She has played more than 30 leading roles in European and American movies, starring opposite James Mason, Valentina Cortese, Therence Stamp, Anthony Franciosa and Charles Grodin.
Irina was given a supporting actress award by the Toronto Film Festival for her portrayal of a "Demented Contessa" in the film "Union City," which she also produced, starring singers Debbie Harry and Pat Benetar.
In addition to her film achievements, Irina starred in 14 episodes of the Italian-French co-production TV series "Poly in Venice," and in "The Girl Without Identity." She has guest-starred on many American TV series, including "The Gilmore Girls," "Pensacola: Wings of Gold," "Just Shoot Me," "Six Feet Under," "Cracking Up," "Angel," "Threshold," "Heroes," "American Body Shop," "12 Miles of Bad Road," "Trading Eights" and the daytime dramas "Days of Our Lives" and "The Bold and the Beautiful."
To fulfill her insatiable desire to perform, Irina has added a unique singing voice to her acting abilities. This has enabled her to travel the world - from New York to Rio to Tokyo - with her one-woman musical comedy shows and included a sold out Los Angeles Show Illusions based on the CD of the same name.
Let's Face the Music And Dance is the first track off the newly released Illusions CD available on CDBaby.com and iTunes.
Irina Maleeva was interviewed by critically acclaimed host GoHarrison of 90.7 Los Angeles during the 4th Annual New Media Film Festival. You can watch this video by clicking here
http://new.livestream.com/randomhouzeproductions/newmediafilmfestival
On July 5th 2013 2:30 ET there will be a live interview on National Radio Show _Music Friday_ with Irina Maleeva and host Patrick O 'Heffernan at http://www.cyberstationusa.com
Irina will talk about her illustrious career and the history behind the music on her recently released CD Illusions available on CDBaby.com and Itunes.com