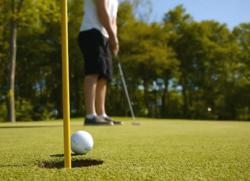 Charlottetown, PEI (PRWEB) June 28, 2013
Homburg Academy has partnered with Prince Edward Island's Fox Meadow Golf Academy to provide a new Business Golf package to hone golf and business skills on the golf course.
This summer, Homburg Academy will teach its Summer Management Program at the Fox Meadow Golf and Country Club. The program includes 9 hours of instruction in leadership, motivation, communication, and negotiation over 3 mornings from Friday to Sunday. Lunch at the award winning Atlantic Lure dining room is included. Over the 3 afternoons, participants will take 4.5 hours of golf instruction on the golf course. Each day ends with a complimentary 18 hole round of golf. The package also includes 4 nights accommodation in the new Holman Grand Hotel in downtown Charlottetown.
The partnership is a natural fit for both the Fox Meadow Golf Academy and Homburg Academy. "With 10 of the top 100 golf courses in Canada, Prince Edward Island is the number one golf destination in Canada. Homburg Academy's Summer Management Program takes place in Prince Edward Island. With golf facilities like that on our doorstep, and with so much business done on the golf course, it just made sense to connect the dots," said Dr Jarrod Wiener, President of Homburg Academy.
The partnership extends Homburg Academy's engaging management education to an outdoor group instruction, and adds PGA certified golf instructors. "If you can't play golf, you're missing out on business opportunity, so we are going to teach people to golf and to do business at the same time," says Wiener.
Links and Learning will be available throughout the summer at a cost of $1,699, inclusive of hotel accommodation, lunches, golf lessons, and Homburg Academy's Summer Management Program. Special group rates are available. Anyone interested can learn more by calling Homburg Academy at 1-902-892-7164, or by visiting the Links and Learning Website at: http://homburgacademy.org/golf/index.html
ABOUT HOMBURG ACADEMY
Homburg Academy is a university headquartered in Zurich, Switzerland with offices at the Homburg Institute Canada based in Charlottetown, Prince Edward Island, Canada. The Academy's mission is to provide rigorous, yet accessible, higher education through its innovative online platform and summer schools. Homburg Academy aims to produce graduates who have highly developed skills by bringing to bear multi-disciplinary insights to the management of complex international business issues.
Homburg Academy Website: http://homburgacademy.org/
CONTACT
Mr. William Beckett
1-902-892-7164