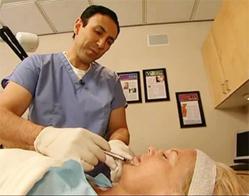 Los Angeles, California (PRWEB) June 29, 2013
According to an article published in the July/August 2013 issue of Shape Magazine, titled "A Lifetime of Good Skin," for women in their twenties and thirties aging is less of a concern and perfect skin care is an achievable goal. Women over the age of twenty-five have a fifty-four percent likelihood of developing acne, but this can be avoided with proper treatment. For women in their thirties, fine lines and sun damage are often a pressing concern (Go to goo.gl/raeBl).
"Adult acne can be a major concern for women in their 20's," says Dr. Simon Ourian, Medical Director of Epione Beverly Hills. "This may be the case even for women that did not suffer breakouts in their teens. And, as one enters her late 20's, cell turnover slows which can leave a dead layer of skin on the face. We offer a variety of treatments for this."
According to the article, fine lines can become an issue for women in their thirties. The crinkles that always disappeared in the past whenever they stopped frowning or smiling suddenly don't go away anymore. This is due to the underlying collagen being worn down by repeated, dynamic, skin creasing movements. Injectables such as Xeomin, Dysport and Botox paralyze the facial muscles, effectively treating fine lines.
Further according to the article, brown sun spots are another common problem for women in their thirties. These blemishes signify chronic sun damage, caused by too much exposure to UV rays. The sun changes the cells responsible for producing melanin, which makes them generate excess pigment. To tackle this, cosmetic dermatologists may suggest topical lighteners, like hydroquinone, which fade brown spots within a few months. For others with brown spots or all-over uneven skin tone, laser treatments may be a more appropriate treatment.
"For women in their 20's and 30's a lot of what we do is preventative," says Dr. Ourian.
Dr. Ourian has been a pioneer in laser technology and non-invasive aesthetic procedures including Restylane, Juvéderm, Radiesse and Sculptra. These treatments are used for the correction or reversal of a variety of conditions such as acne, acne scars, skin discoloration, wrinkles, stretch marks, varicose veins, cellulite, and others. More information about aesthetic treatments for women in their 20's and 30's can be found on Epione's website.