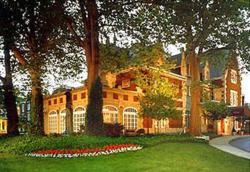 (PRWEB) June 29, 2013
Located in downtown Cleveland on the Case Western Reserve University campus, The Glidden House stands out for its stunning beauty and legendary charm. Guests soon discover why this impressive 1910 mansion has earned 3.5 stars in addition to this most recent accolade. The full service amenities that accompany each of the exquisitely decorated modish guest rooms and vintage suites contribute to a memorable stay regardless of duration. Additionally, the hotel's staff waits in the ready to accommodate guest requests lending to an even more pleasant and memorable stay.
As tempting as it is to relish the intimate surroundings of each room, guests would be remiss to not step out on the town as the hotel is conveniently located near campus activities, venues and everything downtown Cleveland has to offer travelers whether visiting for business or pleasure. Before seeing the city sites, savor the European style breakfast served to guests in the mansion's original parlor. Elegant old world charm paired with modern amenities and outstanding service fosters feelings of being more of a friend than a guest. Stay awhile and discover the excellence.