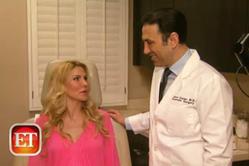 Los Angeles, CA (PRWEB) June 30, 2013
According to a June 21, 2013 Marie Claire article, titled "7 Basic Foods to Use as Skincare Products," regular grocery items can be used to care for one's skin. Seven common food items are suggested for their abilities to provide health benefits for the skin (Go to goo.gl/sWF36).
"Articles like this can be fun," says Dr. Simon Ourian, Medical Director of Epione Beverly Hills, "but it really isn't likely too many people are using Champagne as a skin toner."
According to the article, instead of reaching for a commercialized tube of acne cream, marks and blemishes can be effectively treated with Greek yogurt. Full-fat yogurt can be put on pimples to reduce redness, kill bacteria, and loosen pores. Greek yogurt works because of the lactic acid content that helps rid the skin of dead skin cells.
A second suggestion from the article is that caffeinated coffee grounds may help with stubborn cellulite. It works because coffee grounds constrict the blood vessels when placed on top of the skin, thereby causing the skin surface to increase circulation. Simply use caffeinated coffee grounds and pumpkin, which is rich in vitamin A, to vigorously scrub the problem areas.
Finally, the report offers oatmeal as the perfect facial scrub for sensitive skin. Simply grab some whole oats from the cereal aisle and lightly ground them in a food processor. To ensure a more effective scrub, do not ground too finely. Then use the grounded oatmeal or mix with a cleanser immediately.
"The article suggests that Champagne can be used on the skin as a toner," says Dr. Ourian. "The grape seed extracts in champagne are rich in antioxidants and vitamins C and E. Since the skin has collagen and elastin, it must be protected from free radicals and other stress related imbalances."
Dr. Ourian has been a pioneer in laser technology and non-invasive aesthetic procedures including Restylane, Juvéderm, Radiesse and Sculptra. These treatments are used for the correction or reversal of a variety of conditions such as acne, acne scars, skin discoloration, wrinkles, stretch marks, varicose veins, cellulite, and others. More information about foods that may make the skin healthier can be found on Epione's website.