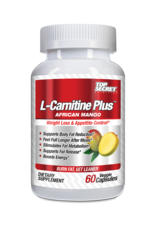 L-Carnitive and African Mango, two effective weight loss ingredients combined into an excellent supplement
Miramar, Florida (PRWEB) June 30, 2013
Top Secret Nutrition has built its reputation by meticulously designing and marketing unique, industry leading and effective nutritional supplements of the highest quality. The L-Carnitine Plus African Mango supplement is one more example of the company's creativity in using the latest research to develop products that combine ingredients that more effectively address the consumer's needs. L-Carnitine Plus African Mango joins its very successful "sister" products L-Carnitine Plus Raspberry Ketones and L-Carnitine Plus Green Coffee in the battle against unwanted fat.
What makes the combination of L-Carnitine and African Mango an effective weight loss supplement? L-Carnitine is a naturally occurring amino acid that plays a vital role in the metabolism of fat. L-Carnitine aids in the release of store body fat into the bloodstream where it is used as energy. African Mango is high in soluble fiber which is an accepted lipid-lowering supplement. African Mango has shown the ability to help slow down the rate of carbohydrate absorption as well as having a potential starch blocking effect.
L-Carnitine Plus African Mango can help to:

Support body fat reduction
Feel full longer after meals
Stimulate fat metabolism
Support fat release
Boost energy
"We pride ourselves of looking beyond just what is the latest hot ingredient in the market. We look at ways to combine that hot ingredient with other synergistic ingredients to make it even more effective. The success of our L-Carnitine Plus™ line is a perfect example of how well this approach works," states Tom Richardson, Top Secret Nutrition's CEO.
About Top Secret Nutrition:
Top Secret Nutrition is a developer and marketer of high-quality nutritional supplements with the purpose of "Fueling Active Life Styles 24/7" and is considered a leader in sports nutrition, general heath and weight management supplementation. The company currently has over 50 products spanning across the three supplementation segments. These products are widely available in the United States at some of the most relevant retailers such as Bodybuilding.com, GNC, Vitamin Shoppe, and Vitamin World. Europa Sports, Select Nutrition Distributors, and the Chiropractor's Buying Group also distribute the products to a wide network of retailers. Top Secret Nutrition's products are increasingly available in international markets.
Top Secret Nutrition is based in Miramar, Florida. All of its products are manufactured in the United States using Good Manufacturer Practices (GMP) certified labs. For more information or to schedule an interview, please contact Tom Richardson at (954) 496-9600 or tom(at)topsecretnutrition(dot)com