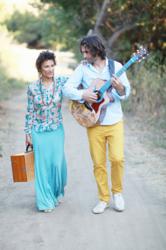 Pouring their love for each other into their soulful, melodic world pop anthems, Avasa and Matty create a fresh new soundtrack for all generations.
Boulder, CO (PRWEB) June 30, 2013
Love is King Love is Queen is the debut offering from singer-songwriter duo/couple Avasa and Matty Love, featuring 10 original tracks and co-produced with Robin Livingston (MC Yogi, El Radio Fantastique). Pouring their love for each other into their soulful, melodic world pop anthems, Avasa and Matty create a fresh new soundtrack for all generations. Harmonies and hip-hop beats, reggae bubbles and jazz horns, lush strings and synths accompany lyrics and melodies that open doors to a world of possibility and unconditional love.
Avasa and Matty first connected in 2008, when Avasa was waitressing at Cafe Gratitude in northern California. It was love at first sight, and soon after they discovered a shared devotion to music. The two have been one ever since. They married on October 2, 2010, at "Love Field" (the land in northern California upon which Matty was raised), and two weeks later released their first EP, Love is King, Love is Queen. That release was a raw, unmastered forerunner of today's full album, which features two additional tracks, one of them featuring a cameo vocal performance by Matty's childhood friend, MC Yogi.
As husband and wife, Avasa and Matty walk a path of deep spiritual commitment to serve humanity through music. They find great joy and purpose in experiencing divine love, cultivating inner peace and making music that uplifts the heart and heals the soul. Their sound is an inspiring blend of world pop and devotional soul sound, with unique anthemic coloring in each song that is especially highlighted by their vocals. Avasa and Matty have rich, soulful voices that beautifully blend together in every lyric, offering the listener a transcendent experience of divine union.
With Matty's background in reggae and folk and Avasa's in folk and pop music, they cite influences as diverse as Bob Marley, Snatam Kaur, Tracy Chapman and Richie Havens – with their music often compared to the latter two. Always with the intention of transforming human consciousness, their lyrics are meant to inspire hope, faith and, above all, love. Composing their music with guitars, harmonium and piano, they write jointly and individually.
Matty grew up with producer Robin Livingston in Point Reyes, California, and drew upon their longstanding friendship in creating the album. Livingston's production experience and skills helped the duo shape an epic, fresh world sound for this concept album, with its theme of love as the highest law, the guiding light and the eternal source of creation and its intention of exploring the deeper dimensions of mythology, spirituality and devotion.
On tour, Avasa and Matty have shared the stage with such noted artists as Jason Mraz, Ben Lee, MC Yogi,and The Luminaries. They currently reside in Los Angeles, and are presently recording their second album, The Road. White Swan Records will release Love is King, Love is Queen both digitally and physically on August 20, with The Road tentatively scheduled for release in early 2014.
# # # #