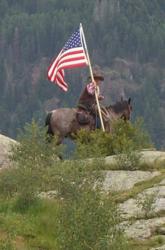 "We've never heard another story like this. Very unusual for a horse." Jane Van Berkum, Rainbow Trout Ranch
Antonito, CO (PRWEB) June 29, 2013
June marks the seventeenth year since legendary horse Zorro returned to Southern Colorado dude ranch Rainbow Trout Ranch after a two year absence in the mountains north of the ranch.
According to head wrangler David Van Berkum, Zorro was new to the ranch remuda in 1994 when he was one of the horses on an overnight ride. During the night he got startled and ran off into the mountains where he remained for the next two years. Glimpsed occasionally, Zorro climbed deeper and higher into the mountains rather than seek the company of other horses. "This was very unusual behavior for a horse which is essentially a herd animal and doesn't like to be alone."
Van Berkum goes on to say that Zorro became legendary in the area, known about but seldom seen. "He became a mascot of sorts, living up there in the mountains through two winters, completely alone. Everybody knew about him but no one could catch him."
In June of 1994, Zorro suddenly appeared about fifteen miles north of the ranch grazing the banks of the swollen Conejos River. Expecting it to be a difficult venture to capture him, Van Berkum and several wranglers took a trailer and horses up to the area and worked out a plan. But Zorro followed easily into the nearby Forest Service corrals, and was soon back at the ranch.
Van Berkum's wife and fellow head wrangler, Jane Van Berkum said she rode him that night and for the next fourteen years. "He always seemed on the verge of exploding but he never did" she says, adding that "he never fully trusted men but he was perfect for me, a complete gentleman, surefooted and savvy and just a wonderful horse."
Zorro was euthanized in 2010 after a bout with stomach cancer when he was 24 years old. He is buried at the ranch under an aspen tree. "People still talk about him" says Jane Van Berkum "and we still get emails and letters about him as his story gets passed along. Why he stayed up there for two years all alone and then suddenly came back is a mystery. But I'm glad he did. I used to carry the flag on him at our ranch rodeo and he was magnificent. Always."
About Rainbow Trout Ranch
Rainbow Trout Ranch is a family owned dude ranch in excellent standing with both the state and national dude ranching associations, and exclusively five star reviews on Trip Advisor. The ranch has a long tradition of providing superb western hospitality for families, couples, groups and singles looking for an adventure vacation in the Rocky Mountains of southern Colorado. Inquiries can be made to 800.633.3397 or the website.