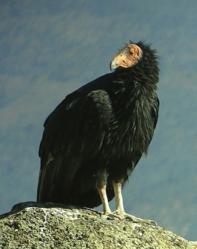 Why go in search of California Condors? A bird with a nine-foot wingspan and fewer than 250 individuals in the wild? One has to try.
Pueblo, CO (PRWEB) June 30, 2013
Naturalist Journeys, a top nature and birding tour company, is proud to announce a new September 3-8, 2013 tour to observe rare California Condors in the Four Corners area, in partnership with the Nature and Raptor Center of Pueblo (NRCP), Colorado. The company owner, Peg Abbott, and Center's Executive Director, John Gallagher, created the tour based on their mutual strong interest in the restoration of iconic California Condors, which are making a return from the brink of extinction. Gallagher describes, "When I called Peg Abbott, owner of Naturalist Journeys, I had one word for her: 'CONDORS.' She said, 'I like it.' So we put our heads together and in a short time, we had a plan."
Gallagher welcomes Condor enthusiasts to join their group. In a recent NRCP newsletter, he says that leading summer programs for kids has made him realize the physical, mental, and emotional health benefits of time in nature. In this latest edition of "The Cottonwood", his invitation to the tour is titled, "Adults Need Nature Too."
Abbott comes from a conservation background, having worked 17 years with the National Audubon Society. She says that part of their mission as a small eco-tour company is to work with nature organizations like NRCP to help put together a well-organized and successful nature tour for their members.
Find full details of Naturalist Journey's and the Nature and Raptor Center of Pueblo's joint Canyon Adventure in Condor Country at http://natureandraptor.org/.
More about the September 3-8, 2013 Condor Country birding and nature tour:
On this week-long adventure, tour participants will visit the Four Corners region's spectacular parks and monuments with a focus on understanding the ecology and current status of the California Condor population. Abbott says that the guided experience is essential here, not only to find wild and elusive California Condors, but to better understand the region's fantastic geology, lush forests, open sagebrush-clad valleys and rainbow-colored canyons. She says, "California Condors need a large expanse of terrain and they move around within that large region seasonally. Where they may be found in September is different than where we find them in January."
Guides network with professionals and depend on previous experience to find condors. Abbott and Gallagher chose to include Zion National Park, the North Rim of the Grand Canyon, and the Vermilion Cliffs to showcase California Condors. Because of the group's interest in birds and other wildlife, they also selected the ghost town of Grafton, Utah and Pipe Springs as lush oases that attract migrant songbirds, on the wing through the region in early September.
Naturalist Journeys Nature and Birding Tour participants delve into their passion and the terrain. The Adventure in Condor Country nature and birding tour includes a guided hike in scenic Antelope Canyon and a raft trip on the Colorado River through Marble Canyon. Guides carry high-powered optics to aid in raptor viewing.
This tour, which is limited to 12 participants, begins and ends in Page, Arizona.
More about Naturalist Journeys:
Naturalist Journeys LLC, a top birding and nature tour company, offers specialty small group tours and travel worldwide, from the western U.S. to Alaska, Hawaii and Florida, Costa Rica, Panama, safaris in Africa and more. Naturalist Journey's guided nature and birding tours feature expert guides with decades of experience in birdwatching, travel photography and other forms of eco-tourism. Naturalist Journeys also offers hiking and adventure travel tours in many national parks and wildlife reserves, including the Galapagos, Antarctica and the Amazon.