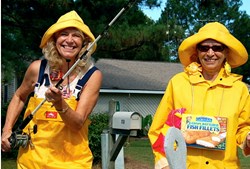 Best Places to Live in Coastal North Carolina
New Bern, NC (PRWEB) June 28, 2013
Since 1980, the Sailing Capital of North Carolina has been hosting this fun filled family event over the July 4th holiday weekend. This friendly coastal North Carolina village is nicknamed the 'sailing capital' because sailboats here outnumber residents three to one and life revolves around the water at award winning master planned communities like River Dunes. Baby Boomers are drawn to these type of coastal neighborhoods because of the small town charm and compassion they exude. Recently, River Dunes, hosted North Carolina's largest Leukemia Regatta Cup, a fund raising event raising more than $200,000 helping families battling cancer.
Oriental North Carolina's population barely exceeds 1,000 yet almost 10,000 people come to enjoy this seaside event. Red, white and blue parades, local musicians, and a scrumptious baking contest are just a few of the fun things to enjoy at this small town festival. People are friendly and are quick to share a smile or lend a helping hand.
Oriental North Carolina is located on the Inner Banks and about 45 minutes north of New Bern, a 300 year old historic city on the Neuse River. The area has a strong military presence with the Marine Corps Cherry Point Air Station located in New Bern and the Marine Corps Base Camp Lejeune approximately an hour and 1/2 south.
Boaters are drawn to the area because the Pamlico Sound is the largest lagoon in the U.S. between the barrier Outer Banks islands and the mainland. This area is one of the finest waterway corridors and connects to the Intracoastal Waterway. In fact, BoatUS recently named the Neuse River, Trent River and Pamlico Sound as one of the Top 10 GREAT BOATING TOWNS IN AMERICA. Temperatures average 44 degrees in the winter and 82 in the summer.
Residents of River Dunes and New Bern real estate developments have these events to look forward to at the July 4th Croaker Festival:
Saturday morning parade with more than 100 entries
Friday and Saturday concerts and street dance at Lou-Mac Park
Croaker Festival Kids Park with contests, entertainers and fun activities
Delicious food including an old-fashioned baking contest
Local artisan showcase
Crowning of the Croaker Queen and Miss Minnow
Saturday night fireworks display
Croaker Festival Regatta
Fishing contest
To Baby Boomers, the Croaker Festival represents heart warming nostalgia. A more early American simple way of life and a close sense of community. As the word gets out about Oriental North Carolina, we anticipate more people will be drawn to small coastal cities like these, regions who boast great weather, a lower cost of living and pure old-fashioned fun.
When you travel to explore New Bern and Oriental, be sure to tour the award winning community of River Dunes, a boating community Real Estate Scorecard considers to be a benchmark in waterfront master planned communities.
About Real Estate Scorecard
Real Estate Scorecard writes unbiased real estate reviews providing in-depth information about popular gated communities in Florida, Georgia, North Carolina, South Carolina and Tennessee, all in an effort to help people discover where to retire in the Southeast.
Website: http://realestatescorecard.com