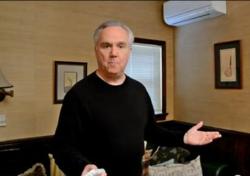 Baltimore, MD (PRWEB) June 30, 2013
A famous representative of Washington's media and a loyal customer of Grove Heating and Cooling, anchor Al Koken partnered with the Maryland HVAC company in creating a promotional video for its HVAC services.
Available both on the company's website and its YouTube channel, the three-minute video features Koken showing his older home with the mini-split HVAC units recently installed by Grove Heating and Cooling.
A broadcasting veteran, Koken, better known as Smokin' Al Koken, is famous for hosting radio shows on WTOP and WTEM, as well as broadcasting for the Washington Capitals on two different sports networks.
"Long story short, a friend of mine was working at the CBS Radio where Al Koken was doing an interview, when Al mentioned he was looking for a new cooling solution for his Washington, DC home," shared Gary Grove, the owner of Grove Heating and Cooling.
He explained that at that time there was only one window AC unit in Koken's home that was expected to cool the entire downstairs but failed to do the job. Grove Heating and Cooling happened to carry and professionally install Mitsubishi mini-split HVAC system – a popular heating and cooling solution for homes with no air ducts.
"I was impressed with the Grove team from our very first meeting. They came into the house and digitally measured every part of my house – upstairs, downstairs – to try and find the exact perfect location to place these Mitsubishi units," said Koken.
He elaborated that a total of six individually programmable units were installed throughout his house, making it possible to heat or cool separate rooms depending on when and how they are being used.
"The beauty of a mini-split system, such as the Mitsubishi unit we installed in Al's home, is that you get full control over heating and cooling of your entire house: you can select which rooms you want to adjust the temperature in, at what times and for how long," shared Grove, who has installed similar systems in many Maryland homes from Bowie and Laurel to Annapolis.
According to the most recent Residential Energy Consumption Survey (RECS) conducted by the U.S. Energy Information Administration, heating and cooling accounted for 48 percent of household energy use in 2009 – down 10 percent since 1993.
Among other things, this drop in energy consumption is being attributed to the use of more efficient equipment, better insulation and more efficient windows. "We believe mini-split systems can do wonders in ductless homes when it comes to energy savings and lowering your utility bills," concluded Grove.
About Grove Heating and Cooling, Inc.
Family owned and operated, Grove Heating and Cooling, Inc. was founded back in 2002 by Gary Grove who spent more than 30 years working in the HVAC industry. The company offers a wide array of heating and air conditioning services in Maryland, including design, engineering and installation of comfort systems for homes and commercial properties. Annapolis, Bowie, College Park, Glen Burnie, Laurel and Pasadena are just a few of the areas served by Grove Heating and Cooling. For more information, please visit http://www.grovehvac.com