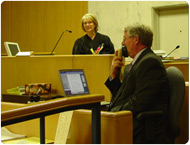 The voice of court reporting.
nvra.org (PRWEB) June 30, 2013
NVRA proudly announces that the Governor of the State of Oregon has signed into law legislation that approves voice-writing court reporters to be licensed as CSRs and opens the door for voice writers to practice their profession in Oregon.
NVRA® is the United States authority for voice writing. We support our members with official testing and certification, marketing, news and information, legislative advocacy and professional development services.
The method of court reporting known as voice writing, formerly called "stenomask," was developed by Horace Webb in the World War II era. Prior to inventing voice writing, Mr. Webb was a Gregg shorthand writer. Gregg shorthand is a multi-level process in which the reporter records the proceedings using shorthand, then dictates from his notes into a tape recorder. The dictation process alone requires two hours for every one hour of testimony. After the testimony is transferred to audio tape, a transcriptionist types out an official documentation of the proceedings. Mr. Webb wanted to create a reporting method that allowed court reporters to dictate directly during proceedings, eliminating the shorthand process altogether.
Horace Webb and two colleagues spent several years designing the stenomask and perfecting the voice writing method. The court reporter speaks directly into the stenomask – a handheld mask with a voice silencer. The silencer prevents the court reporter from disturbing proceedings while repeating everything that occurs during testimony -– even unspoken answers, gestures and reactions. Unfortunately, the voice writing method did not catch on until the method was tested by the U.S. Navy and adopted by the military justice school in Newport, Rhode Island. From then on, the stenomask method of court reporting gained widespread acceptance.
Voice writers have long been available to make the record through the use of a stenomask with a voice silencer and analog tapes. Voice writers not only repeat every word stated by the attorneys, witnesses, judges and other parties to a proceeding, but also verbally identify the speaker. They even punctuate the text, describe activities as they take place, and, in some cases, mark exhibits.
Cutting-edge technology, in the form of speech recognition CAT systems, affords the voice writer the opportunity to have the spoken words instantly turned into text on a laptop computer or computer work station. As a result, the voice writer is now able to produce realtime text feeds within the courtroom and download them in ASCII format for distribution immediately following a proceeding. The equipment used by realtime voice writers can also interface with all litigation-support software.
Please contact NVRA for more information.