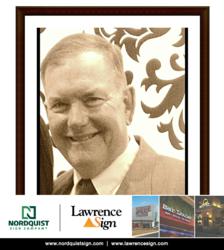 St. Paul, MN (PRWEB) June 30, 2013
Nordquist Sign and Lawrence Sign are pleased to announce the addition of Steve Charem as Art Director.
Steve brings over 30 years of experience in the gaming, large stadium, and casino specialty sign industries. He has been recognized as best-in-class throughout the gaming industry for his award-winning sign designs.
"I made the move to Nordquist Sign because of Nordquist Sign's state-of-the-art facility, the mindset of service, a commitment to quality in manufacturing, and the management team and vision," noted Steve during a recent interview. "It is a top-tier team of professionals that want to provide the best service and product to national accounts."
Steve's daily duties will include work on high-end design projects for the gaming and entertainment industry, quick turnaround of design and project support. He will also bolster the sales team with conceptual renderings that will highlight Nordquist Sign's unique abilities.
"We are trying to build the best team of sales, service, and manufacturing people in the business," said Robb Walker, CEO of Nordquist and Lawrence Sign. "Steve's best-in-class skills, industry experience, and commitment to quick turnaround is in alignment with our Company's vision."
Prior to joining Nordquist Sign Steve worked as an art director or creative director serving the gaming industry at several leading sign and graphic companies. His work has primarily been in the Las Vegas, Nevada area where he has completed numerous award-winning projects.
"I really enjoy working on sign design, presentation and cultivation of exterior and interior signage projects in the gaming market," said Steve. "The dynamics of multiple-themed gaming resorts and working with the team at Nordquist Sign provide me with great professional challenges I relish."
Steve wants to help your business grow with great design. He is available for consultation on your next project and can be reached directly at (702) 883-7683 or via e-mail stevenc(at)nordquistsign(dot)com.
About Nordquist Sign & Lawrence Sign
Nordquist Sign has been fabricating and installing custom signage, architectural elements and wayfinding signage for over 100 years. Nordquist's customer base and scope of work includes custom signage and environmental graphics for hospitals, sports facilities, themed entertainment, corporate/financial and mass transit. Nordquist Sign also maintains a gaming division with offices in Las Vegas, NV and St. Paul, MN to serve casino gaming markets throughout the United States.
In late 2011, Lawrence Sign, also in business since the early 1900's, acquired Nordquist to combine the unique resources and capabilities of the two companies. Together, Nordquist Sign and Lawrence Sign offer their clients over 175 years of experience in sign manufacturing and installation for all phases of the signage industry.
For more information:
(651) 488-6711 • (800) 998-8901 • http://www.nordquistsign.com • http://www.lawrencesign.com
info(at)nordquistsign(dot)com • info(at)lawrencesign(dot)com