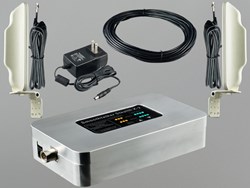 "SmoothTalker has been at the forefront of Mobile Signal Amplifiers for over 12 years and brought North America the first FCC and Industry Canada (ICAN or IC) approved digital mobile amplifier." said Tom Vagenas, SmoothTalker CEO
Aurora, Ontario. (PRWEB) June 30, 2013
SmoothTalker (http://www.smoothtalker.com), a leading manufacturer and the North American pioneer of cellular signal boosters and cellular amplifiers, today announced the industry's longest and most comprehensive warranty for all SmoothTalker cellular boosters.
"SmoothTalker has been at the forefront of Mobile Signal Amplifiers for over 12 years and brought North America the first FCC and Industry Canada (ICAN or IC) approved digital mobile amplifier." said Tom Vagenas, SmoothTalker CEO. "We have boosters in the market that we have backed and have been performing for much longer than 3 years so we felt it was time to announce an industry leading warranty. No one in the industry has had cellular boosters in the field and market for a longer time than SmoothTalker boosters."
SmoothTalker engineers have constantly improved their hardware and software over the years to a point now, where they feel they manufacture a "bullet proof" booster capable of taking years of use and even abuse in the harshest conditions and climates.
SmoothTalker boosters have proprietary technology that completely addresses the issues which poor quality competing amplifiers have been causing to Networks and poor performance to the end users. The highlights of some of the key points where SmoothTalker Self-Monitoring STEALTH TECH® has addressed are anti-oscillation and active gain control.
SmoothTalker's full family of cellular boosters, custom cradles and hands free kits will be on display at this year's Canadian Wireless Trade Show being held in Toronto, Ontario on September 25th and 26th, 2013.
About Cellular Boosters
Cell phone boosters increase incoming (receive) signal and outgoing (transmit) cell and mobile phone signal to provide a clear reliable voice connection, reduced dropped calls and increased data speeds. They are also known as cellular phone amps, amplifiers and repeaters. Boosters can be used to increase the range of a cell phone, smartphone, datacard, aircard and other Cellular and PCS frequency band devices such as a remote alarm, vehicle tracking device and video device.
Kevin Carter, Director of Business Development at SmoothTalker states, "The cell phone signal amplification market is on a huge upswing as the customers are tied to their cellular connection for voice and data and moving away from a home line and even Wi-Fi. Our amps are great for urban homes and buildings but also perfect for the M2M market and very remote areas. They allow users to stay connected in the many locations where coverage is presently poor or even nonexistent."
About SmoothTalker
SmoothTalker designs and engineers leading edge products that enhance the total cellular phone experience. SmoothTalker produces the absolute best performing signal boosters available, the largest selection of in-vehicle custom charging cradles in North America and professional grade fixed-in-vehicle hands-free kits.
The company first began developing SmoothTalker cellular products in 1995. Research and Development into digital signal boosters began in 1998, to address the needs for improved signal in remote areas. SmoothTalker was the pioneer in this technology. In December 2001 SmoothTalker received the first FCC approval for its GSM/TDMA Digital Mobile Booster. This was quickly followed with the first FCC boosters for iDEN (Nextel) and for CDMA networks. This commitment to meeting the needs of the user and the network resulted in the most advanced wireless amplifier technology on the market today "STEALTH TECH" ®.
SmoothTalker will continue the evolution of signal booster technology and keep raising the bar ever higher to meet the complicated and constantly evolving demands of present and future wireless networks and market needs.
For more information:
Contact: Kevin Carter, Director of Business Development, SmoothTalker
Phone: 1-877-726-3444
Email: Kevin.c(at)smoothtalker(dot)com