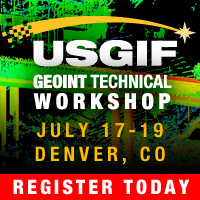 Herndon, VA (PRWEB) June 28, 2013
The United States Geospatial Intelligence Foundation (USGIF) will be hosting a Denver Technical Workshop July 17-19 at various locations in Denver, CO. This 3-day workshop is aimed at engaging the GEOINT Community in the Rocky Mountain and Inter-Mountain West with classified and unclassified training, keynote speakers, presentations and networking opportunities.
The Denver Technical Workshop will kick off Wednesday, July 17 with all-day unclassified Earth Observation (EO) and Synthetic Aperture Radar (SAR) training at the Denver Federal Center. Training sessions will introduce participants to the latest developments in commercial SAR and electro optical satellite imaging and applications.
Technical presentations at the Crowne Plaza Denver International Airport on Thursday, July 18 will include topics on EO, multi- and hyper-spectral, multi-source fusion, GPS, airborne, intelligence integration, data management and many more. Thursday will also feature a "speed mentoring" session for USGIF's Young Professionals Group (YPG), where senior professionals of the GEOINT Community will talk with young professionals about their careers and answer questions about their experience in the GEOINT field. Mentors include USGIF CEO Keith Masback, NGA-Denver Director Ed Mornston, NGA COO Ellen McCarthy, NGA Chief of Staff Paula Monroe and others.
Finally, the workshop wraps up on Friday, July 19 at the Aerospace Data Facility-Colorado with a day of classified briefings, keynote speakers and panel discussions.
Attendees must register at USGIF.org. Clearance deadline for the classified day is July 11.
About USGIF
USGIF is a non-profit educational foundation dedicated to promoting the geospatial intelligence tradecraft and developing a stronger GEOINT Community with government, industry, academia, professional organizations and individuals whose mission is the development and application of geospatial intelligence to address national security challenges. For more information, please visit http://www.USGIF.org