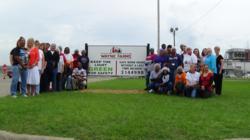 Enterprise, AL (PRWEB) June 28, 2013
Wayne Farms LLC's Enterprise facility recently celebrated a milestone in safety and production by operating 3 million man-hours without a lost-time accident. "No lost time" means that no employee has missed work due to an injury suffered on the job.
To reach this milestone, the company went beyond traditional safety training and awareness programs, implementing a behavior-based safety initiative called WorkSAFE, which focuses on helping employees identify unsafe behaviors and remain conscious of their environment and potentially dangerous situations.
The company celebrated the safety accomplishment throughout the complex, treating employees to lunch and providing them with a special Safety T-Shirt designed by a Wayne Farms employee. Operations Manager Tom Mallalieu, a long-time Wayne Farms Enterprise employee who led the plant's safety effort, called the 3 million mark "a significant accomplishment by every individual in the plant and complex."
"This kind of outcome doesn't just happen because people are safe in their own work practices—it happens because people take responsibility for safety across the work environment. That means watching out for each other, taking the time to make recommendations and see that they are implemented." The company expanded their traditional safety program by training more than 60 volunteer "observers", who watch for safe practices or unsafe situations as they perform their own jobs. The observations are incorporated into management review of safe practices during weekly management meetings, insuring that lessons learned and opportunities to improve are continuously built into the training process. Employees are greeted each day with a color-coded "Safety Light" along with awareness-building presentations in break rooms, with red, yellow or green lights denoting the general safety posture of the plant and need to pay special attention to a particular safety issue.
The Enterprise facility consists of a 120,000 square-foot fresh processing facility with over 1280 employees and has been owned and operated by Wayne Farms LLC since 1994.
About Wayne Farms LLC
Wayne Farms LLC is the sixth-largest vertically integrated poultry producer in the U.S. with annual sales exceeding $1.9 billion. A subsidiary of Continental Grain Company, Wayne Farms owns and operates 11 fresh and further-processed facilities throughout the Southeast, produces more than 2.5 billion pounds of poultry products each year, and employs more than 9,800 individuals.