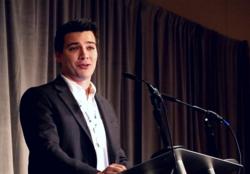 As fleet professionals, safety is our business, but to fleet drivers it's personal.
Trevose, PA (PRWEB) June 28, 2013
To make fleet drivers better drivers, fleets have to make safety a personal issue for them. That's the advice Ken Latzko, CEI's southeast regional sales manager, gave fleet administrators at the 2013 Fleet Safety Conference in Schaumburg, IL, held June 25-27.
Mr. Latzko said many fleets rely on a number of standard approaches to improving fleet safety, including collecting drivers' motor vehicle reports, tracking their accident history and assigning remedial and proactive driver training. In spite of those efforts, however, he said many drivers continue to violate the principles of safe driving, including using mobile communication devices behind the wheel.
"So what's next?" he asked. "How do you truly connect with your fleet population" to change driver behavior? The answer is to engage fleet drivers in personal communications, in a variety of ways, including:

Making every driver's safety record a part of their annual reviews, "because if it's important to their local manager, it's important to them."
Give drivers easy access to their own fleet driving performance record.
Show each driver how he or she compares to their peers.
Distribute "micro-targeted" messages from fleet management that highlight problem accident trends the fleet is experiencing.
As fleet professionals, "safety is our business," Mr. Latzko said, "but to your fleet drivers it's personal – my driving record is personal, the accident I had is personal, my future employment is personal." A key to changing driver behavior, he concluded, is making the fleet safety message personal, as well.
The conference was organized by Bobit Business Media and two of its publications, Automotive Fleet and Heavy-Duty Trucking.
About The CEI Group, Inc.
CEI is a leading provider of technology-enhanced vehicle accident, driver safety and fleet risk management services. Its provider network consists of some 4,000 collision repair shops in North America, and includes nearly 900 truck collision repair centers. Its customers include self-insured, commercial, institutional and government fleets, directly and through alliances with fleet leasing companies. CEI also provides vehicle direct repair program outsourcing to leading property and casualty insurance companies. For more information, please visit http://www.ceinetwork.com.