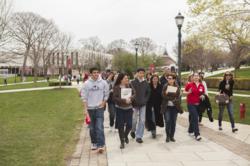 "During the college search process, rule #1 is get out of the car," says Karen Pellegrino, dean of enrollment at Fairfield University in Connecticut. "Unplug the ear buds, turn off the tablet and take a tour."
Fairfield, Connecticut (PRWEB) June 28, 2013
Looking at colleges can be a stressful, nerve-racking experience for both students and parents. Karen Pellegrino, dean of enrollment at Fairfield University in Fairfield, Connecticut, and a veteran of the college admissions process, offers a Top-10 List to help newcomers through the maze-like college search experience.
Rule #1 - Get out of the Car. When visiting colleges, unplug the ear buds, turn off the tablet and take a tour. You may be pleasantly surprised by the hidden treasures not visible from the minivan window.
Rule #2 - What's on the Menu? Examine things like the core curriculum, liberal arts vs. specialized training, and the school's specialty. Who does the teaching? Are there additional special programs like internships, study abroad, accelerated graduate degrees and support services?
Rule #3 - Where is It? Is the school located in a rural, suburban or urban setting? What is its proximity to home? Where do other students come from?
Rule #4 - How Big, How Small? What is the total undergraduate population, what are the class sizes, residence hall sizes and, very important, student-to-faculty ratio?
Rule #5 - Get a Feel for the Place. Get an overall "feel" for the campus during your visit, and try to determine the level of satisfaction-with-experience from students, either informally from tour guides or formally from retention statistics.
Rule #6 - Money Matters. Investigate how the school handles a family's financial needs, ability and willingness to pay. Does it offer 'merit vs. need based' aid? Address this early in the process.
Rule #7 - Know Thyself. Be realistic. Students often decide a college is right for them and then try to mold themselves into that perception. You will be evaluated on your three years of high school work including grades, course selection, and participation in activities. Review what SAT scores, GPA, and class rank the school looks at, in guide books and websites, but note this is subject to change with changing circumstances for individual colleges. Some schools factor into their decision-making your level of interest in the school. Still others (a small number) have developed a policy where they wait-list or deny their best applicants, assuming that they are unlikely to attend the institution, and actually admit the next best group of students, assuming they are more likely to choose that particular institution.
Rule #8 - Organize Yourself from Day One. Have an organized system that includes a calendar of events and deadlines. Know all the requirements of the schools on your list early. And keep a copy of everything.
Rule #9 - Don't Be Afraid to Ask. Work closely with guidance counselors. They should have the answers to many of your questions, or can guide you to where you should look for the answers you need.
Rule #10 - admitme1st@email.com. Pick and use only one email address throughout the entire process.
Rule #10A - Remember to Hit the Submit Button!
"During the college search, the colleges and universities you are exploring should become more than bricks and mortar," concludes Pellegrino, "they should be institutions with character, filled with real human beings."