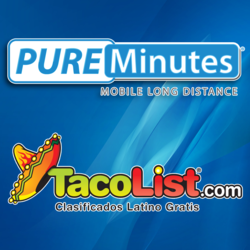 It provides a free opportunity for the Latino community to connect and network.
New York, NY (PRWEB) June 28, 2013
Pure Minutes and Tacolist.com are proud to announce a partnership that connects affordable international calling solutions with one of the fastest growing classified advertisement websites geared towards the Spanish-speaking market. The strategic alliance help connects Pure Minutes to the Tacolist user base seeking affordable long-distance and cellular telephone solutions.
Tacolist (link), founded in 2009 by Rafael Barragan and Michele J. Harris, is a free on-line classified community. Users can post and browse ads to buy or sell products locally and internationally, meet friends, locate housing, find a job. It provides a free opportunity for the Latino community to connect and network.
Tacolist was initially created to serve Hispanic communities within the United States and Mexico and has received 1.5 million visits. With nearly 1 million unique users already on board, and expansion plans for Puerto Rico and South America, Tacolist hopes to open up new avenues of information and commerce to increases the power of knowledge & expand the economic marketplace.
Co-Founder Rafael Barragan shares, "Tacolist aims to build a community where information important to their user base will be freely available on the website; from dating to cars to events and concerts. As Tacolist grows we will continue to give back to the by providing even greater on-line services and supporting organizations and charities that benefit the Hispanic community."
Their dedication to serving the Latino community shines in the recent deal with Pure Minutes. By connecting their users to Pure Minutes, they introduce hassle-free and affordable international calling for a community seeking to keep in touch with loved ones in other countries.
Pure Minutes (link) provides a low-cost international calling solution that works with any phone number, regardless of the current provider. This means that a user can enjoy the benefits of low international rates without needing to change their current landline or mobile cell phone service provider. Pure Minutes has eliminated the need for physical calling cards through a revolutionary system which instantly recognizes subscribers through automatic caller identification.
The venture allows Pure Minutes to introduce its signature low international rates directly to the Tacolist community in the United States. Users benefit from the simplified process of purchasing a phone to making an affordable international call without contracts or obligation.
About PureMinutes
Pure Minutes is a leading provider of prepaid international long-distance calling solutions. We provide an affordable communication solution that offers flexibility, portability and ease-of-use for both landline and mobile users. PURE Minutes offers competitive international calling worldwide with no hidden fees, no maintenance fees, no contract required, and minutes that never expire. PURE Minutes service is sold on the web and through regional and national retailers including MoneyGram, La Nacional and payXchange and is available to customers worldwide in and in Spanish and accepts payments through all major credit cards and Paypal.
Follow us on Twitter (@PUREMinutes), Facebook (facebook.com/PUREMinutes), and LinkedIn (PUREMinutes, LLC) for up to the minute updates.
###