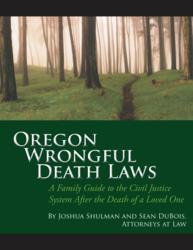 Just because Oregon law allows these [wrongful death] suits doesn't mean that the average person understands how to bring a claim and protect their own rights in court.
(PRWEB) June 29, 2013
In Oregon, family members who have lost a loved one through the actions or negligence of others are allowed to bring a wrongful death claim under Oregon Revised Statute 30.020. Now, there is a free guide being offered to help families understand the wrongful death process and laws.
"Just because Oregon law allows these suits doesn't mean that the average person understands how to bring a claim and protect their own rights in court," said Oregon wrongful death attorney and author Sean DuBois.
DuBois and his personal injury law partner, Joshua Shulman, recently released the report entitled "Oregon Wrongful Death Laws: A Family Guide to the Civil Justice System After the Death of a Loved One." This guide, only 18 pages, is easy to read and answers many of the most frequently asked questions about Oregon wrongful death claims.
"With this information, we hope each family can make an informed decision about whether bringing such a case is in their best interest," said DuBois. The guide discusses several reasons to bring a wrongful death action against a negligent party, including financial losses, a sense of justice, and closure.
A death caused by someone else's actions or negligence can leave people feeling emotionally lost, and financially vulnerable. While a wrongful death claim may help with the emotional aspects of a loss, it can often help with the financial aspects.
"We understand that in most cases, a wrongful death lawsuit is the last thing on the family's mind after a death, but it can be important to act quickly," said Shulman. The report outlines many of the most common Oregon wrongful death statutes, so that family members can begin to understand how much time they have file a suit, and ensure that the right to bring a claim is not lost due to missing legal deadlines.
The guide addresses many issues that are central to a wrongful death case, including:

Investigation of a wrongful death
What a personal representative (PR) for the deceased's estate does (and how a PR is appointed)
Who can benefit from a claim
How a wrongful death award is determined
How a civil lawsuit differs from a criminal case in fatal accidents
Etc.
To learn more about Oregon wrongful death law, visit http://portlandwrongfuldeath.com. The guide is available on this site for free because the law firm of Shulman DuBois LLC believes in justice and educating the public about legal claims.
The personal injury law firm of Shulman DuBois LLC is based in SE Portland, OR. Partners Joshua Shulman and Sean DuBois have experience helping people who have been injured or killed in car, truck, bicycling, pedestrian, and motorcycle accidents. Their areas of expertise include wrongful death claims, brain injuries, child injuries, and victims of drunk driving. For a free consultation, call 503-222-4411 or contact us at http://www.portlandpersonalinjuryaccidentlawyer.com.