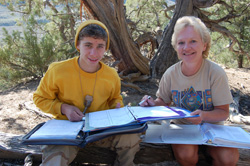 (PRWEB) June 29, 2013
Mountain Homes Youth Ranch stands out in the teen therapy industry with their emphasis on helping youth academically. During the wilderness therapy program, teens have the opportunity to receive academic credit and tutoring. Most teens will receive at least 4 credits by the close of the program. Mountain Homes' goal is to help teens stay on track to graduate while they receive therapy and to help youth get excited about learning again.
There are seven courses available for credit including: English Language Arts. Speech and Communication, Physical Education, Health, Food and Nutrition, Teen Living, and Wilderness Art. Credits received from these courses are issued at the end of the program in an official MHYR transcript. For detailed descriptions of these embedded courses: Embedded Course Descriptions
Mountain Homes takes pride in integrating these courses into their therapy program. Working with students' individual school counselors, Mountain Homes is able to determine the best courses for teens and how to customize work just for them. Teens work daily with assigned staff to complete their weekly packets and reach an 80% proficiency level in each unit.
To learn more about the academic program Mountain Homes offers in conjunction with their wilderness therapy, click here.