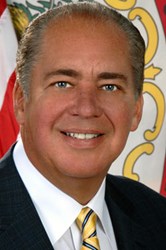 Gov. Tomblin was cited in the article 'Ten People Who Made a Difference.'
CHARLESTON, W.Va. (PRWEB) June 28, 2013
Gov. Earl Ray Tomblin today released the West Virginia Edge Business Report. The report documents the state's economic progress. The June 2013 report highlights projects and related announcements from businesses both large and small that will assist with the creation of new jobs and the preservation of existing jobs.
Magazine names Gov. Tomblin one of "10 people who made a difference"
Southern Business & Development magazine cited Gov. Earl Ray Tomblin in the article "Ten People Who Made a Difference in the South." In its Winter 2013 issue, the magazine points to the governor's economic know-how and the state's achievements such as rate of export growth. To read the excerpt, click here.
Etech to open its first West Virginia teleservice center in Huntington
Etech Global Services, a leading business process outsourcer, announced plans to expand into West Virginia. The teleservice facility in Huntington will be the company's first operation in the state. Etech expects to create 40 jobs initially and projects growth to approximately 200. Currently, Etech employs more than 2300 people in offices in Texas, India and Jamaica. Job seekers may call Donna Fkih at 304-522-2513 for more information or apply online; click on "careers."
WVEDA approves resolutions to support businesses in three counties
During its May meeting, the West Virginia Economic Development Authority approved a loan insurance application, a bond resolution and a bond inducement.

Bond resolution: up to $150 million in bonds, to enable Gestamp to secure equipment for its automotive stamping plant in South Charleston, Kanawha County. Gestamp will lease the equipment from WVEDA.
Bond inducement resolution: up to $20 million. This action will allow Entsorga West Virginia to be reimbursed from future bond proceeds for its initial expenses related to establishing its mechanical-biological treatment solid waste management facility in Martinsburg, Berkeley County. The facility will recycle municipal solid waste and convert it into solid refuse fuel.
Loan insurance application: $500,000, to United Bank to insure loan for M-Rock, in Lindside, Monroe County. The loan insurance could enable the company to retain 30 jobs, with projected growth in two years to 40. Under the Loan Insurance Program, the applicant applies directly to the bank. When the bank conditionally approves the loan following its own lending guidelines, the bank applies to WVEDA for loan insurance. M-Rock is a manufacturer of decorative stone products.
Newly formed Identification Intelligence Group convenes
The West Virginia Biometrics Initiative has been renamed and relaunched as the Identification Intelligence Group. Identification Intelligence is a collaborative platform for biometrics, forensics, big data, data analysis, cyber security, identity intelligence and identity management organizations and professionals. The West Virginia Biometrics Initiative (WVBI) was originally established as an economic development initiative of the I-79 Development Council (I79DC). In 2013, the I79DC retitled the organization and refocused on identification industries such as cybersecurity, biometrics, forensics and data analysis. The group has begun monthly meetings with initial areas of focus on career awareness in high school and college as well as marketing the strengths of the industries and their cumulative presence. Additional goals have been identified and will be implemented as funding is secured. For more information on Identification Intelligence Group, call 304-680-7932.
Marion County information technology company awarded GSA contract
Fairmont-based createTank has been awarded the U.S. General Services Administration IT Schedule 70. A woman-owned small business, createTank provides software and IT services. The GSA Schedule 70 is a contract to sell IT products and services to the federal government. This achievement allows the company to not only subcontract but to serve as prime contractor on work.
State film office hosting workforce training seminar June 22-23
A two-day, hands-on workforce training seminar for entry level production assistants in the film industry will be held on June 22 and 23 in Huntington. The seminar is hosted by the West Virginia Film Office. The workshop covers topics such as film production paperwork, script breakdown, scheduling, job search and resume-building skills. Current West Virginia residents who complete the training will be eligible to become listed in the film office's online Crew and Vendor Directory. Normally, to become listed, a worker must have one professional credit for a certain skillset. Seating is limited and advance registration is strongly recommended. For more information, contact wvfilm@wv.gov or 304-957-9366. The West Virginia Film Office is a section of the West Virginia Division of Tourism, under the West Virginia Department of Commerce.
WVDO promotes state industries at trade shows
The West Virginia Development Office has exhibited in several trade shows to promote state industries. A delegation from WVDO, accompanied by local developers, exhibited at the Japan Society of Automotive Engineers (JSAE) 2013 in Yokohama. WVDO representatives attended the Teaming to Win conference with keynote speakers, educational seminars, exhibit showcase and the annual SBA Awards Banquet in Morgantown. WVDO also exhibited at the Global Automotive Components and Suppliers Expo in Stuttgart, Germany; Plastec East 2013, in association with the Polymer Alliance Zone (PAZ), in Philadelphia; the American Institute of Architects (AIA) National Convention 2013 building materials show in Denver; and North America's largest specialty food and beverage marketplace, the Fancy Foods Show 2013 in New York City.