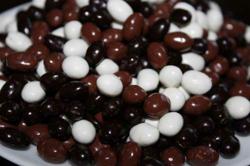 (PRWEB) June 28, 2013
Soy had been taking some hits recently about how healthy it is. Almost Nuts has dug a little deeper to learn more about these claims to shed some light on the issue. They see where the claims are coming from, but go on to debunk some of these claims by looking further into the story.
One of the first claims has been that the soybean contains large quantities of natural toxins or 'anti-nutrients,' (including) potent enzyme inhibitors that block the action of trypsin and other enzymes needed for protein digestion. This is a serious claim, because many people eat soy because of the amount of protein in soy.
There is a grain of truth to this statement, but not to the extent the myths make it out to be. It is true that the protein in cooked soybeans is slightly less digestible than that found in most animal foods. However, when soybeans are made into soymilk, tofu, and the other common forms of soyfoods, their protein digestibility is enhanced and becomes similar to animal foods. And even simple soybeans, with their reduced digestibility, are so high in protein and in all the essential amino acids that they could still easily serve as the sole source of protein in a person's diet if that was necessary for some reason.
They also fault soy for its phytic acid content. Phytic acid is a substance that can block the uptake of essential minerals — calcium, magnesium, copper, iron and especially zinc in the intestinal tract. It is true that soybeans are high in phytates, as are many plant foods such as other beans, grains, nuts and seeds. This would be a problem if a person consumed enormous amounts of soy. But the phytic acid levels found in a plant-strong diet including as much as three servings of soy a day are not high enough to cause mineral absorption problems for most people. Also roasting the soybeans reduces phytic acid content.
They are correct that there are substances in soy that if eaten in too high a concentration can cause problems. The reality is that this is true of almost all foods. If people ate no food that contained substances which can in large enough concentrations cause damage, there would be literally nothing left to eat.
That being said, the soy nuts' nutrition benefits make it a very healthy snack option.
Soy nuts nutrition benefits include low sugar and high protein. They have no trans fats or cholesterol. Plus, they are made up of Omega 3s and 6s. Even the chocolate variety has benefits as well. The dark chocolate used helps fight high blood pressure with the combination of plant phenols and cocoa phenols that help prevent heart disease. The dark chocolate also includes Epicatechin which helps your metabolism, kills the bacteria in your mouth that cause gingivitis and tooth decay.
The soy isoflavones help reduce the appearance of wrinkles, and discolorations in your skin, while brightening your complexion after only 3 months of snacking on them.
Soy nuts can also help with weight loss. Their proteins stabilize blood sugar due to a low glycimic index of only 18, which is the lowest of glycemic index of all legume plants.
Whether covered in Milk Chocolate, Yogurt, or Dark chocolate, the Kornowske family is proud to present the healthy, oven baked snacks for everyone to enjoy. Packed with 12 grams of Protein, and a Low-Sugar snack, Almost Nuts is commitment to supporting Non-GMO farmers and small growers nationwide while providing a healthy, delicious, affordable snack.