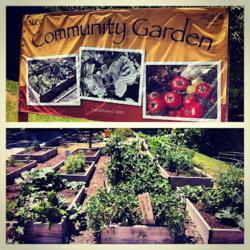 "Even our youngest students in the Early Childhood Development Center are learning valuable lessons about gardening and healthy food."
Salt Lake City, UT (PRWEB) June 28, 2013
Salt Lake Community College has expanded its community garden to include more than 40 beds at three separate locations. What began as a 15-plot raised bed garden at the Taylorsville Redwood Campus on Earth Day 2010, now features plots for community gardeners at 'Community Garden East' also at the Taylorsville Redwood Campus, and another set of beds at the Jordan Campus.
"With three locations, more members of the college community have access to this fun, rewarding, and relationship-building activity that produces nutritious and tasty results," said Paula Michniewicz, Instructional Designer for online courses and coordinator of the Community Garden. "Even our youngest students in the Early Childhood Development Center are learning valuable lessons about gardening and healthy food."
Grainger Corporation helped found the initial SLCC community garden and has been a major reason the College has the resources to expand its efforts. Grainger provided the grant that established the community garden.
As it expands, the SLCC community garden remains committed to its founding principles to develop a better sense of community between faculty, staff, students, and the local community along with advocating for sustainable food production and everyone's right to healthful food.
In addition to support from organizations like Grainger, many groups and organizations from the College are involved in this project, including: Student Life and Leadership, the Psychology Club, Phi Theta Kappa, the Thayne Center for Service & Learning, Student Writing Center, Disability Resource Center, Biology department, Academic Advising, Development Office, Parking Services, Distance Learning, Biotechnology department, Jordan Campus library, and the School of Health Sciences.
For more information, contact Paula Michniewicz at (801) 957-3971.