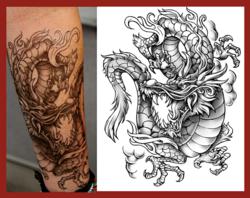 One in five U.S. adults (21 percent) now has a tattoo. Chances are one third of them will come to have regrets.
Tucson, Arizona (PRWEB) June 30, 2013
The overall number of adults seeking tattoos is increasing, and summer is the season that most people first consider getting permanent body art. But there are serious considerations to be made before committing to permanent ink – and understanding the big picture may lead to choosing a temporary tattoo, instead.
SUMMER SUN MAY NOT BE SO FUN
Despite typical longing to show off a new tattoo in revealing beachwear and casual clothing, summer actually may be the worst time to sport a new tattoo without cover. While most dermatologists and tattoo professionals advise using a light lotion to keep freshly inked tattoos moisturized, they recommend waiting two to four weeks before applying sunscreen. Instead, fresh tattoo ink should remain covered with loose clothing while in the sun. In fact, limiting sun exposure, even with sunblock, is recommended for up to three months in order to let the tattooed area heal and form a new layer of skin.
Once your tattoo has healed, even sunscreen can't completely protect your ink from the sun's damaging UV rays. The more your tattoo is exposed to the sun, the faster it will fade.
THE YOUNGER YOU'RE INKED, THE MORE LIKELY THE REGRET
One in five U.S. adults (21 percent) now has a tattoo, according to a 2012 Harris Poll. However, based on a small study of patients with tattoos presented to the British Association of Dermatologists last year, chances are that at least one third of those with tattoos will have regrets about their choices.
The British study revealed that most of the tattoos were done by a professional, with 45 percent getting their first tattoos between the ages of 18 and 25 years old. Additional findings from the survey include:

Half of the respondents were older than age 40
Almost half of the respondents had between two and five tattoos
Men were more likely to regret their tattoos than women
Men were three times more likely to regret their tattoos if done under age 16
Women older than age 21 at the time of their first tattoos were least likely have regrets
Most who regretted getting tattoos had them on their upper bodies
ON THE JOB
The Pew Research Foundation's 2010 survey of Millennials (those born between 1982 and 2002), showed that nearly 40 percent of people between the ages of 18 and 29 have at least one tattoo, although 70 percent of them keep them covered on the job. The reason they do so is evident in a survey conducted for CareerBuilder.com, which found that 31 percent of hiring managers identified visible tattoos as a reason they would not extend a promotion to an employee.
Salary.com's survey of nearly 2,700 adults found that 12 percent of its respondents have visible tattoos that can be seen during the workday, while 76 percent felt that tattoos and piercings hurt an applicant's chances of getting hired during a job interview.
Among other significant Salary.com findings were:

39 percent believe employees with tattoos and piercings reflect poorly on employers.
42 percent feel visible tattoos are always inappropriate at work
The number of women with tattoos is nearly double that of men (15 percent vs. 7 percent)
TATTOO REMOVALS UP 43 PERCENT
The American Society for Aesthetic Plastic Surgery (ASAPS), which compiles the statistics for the Cosmetic Surgery National Database, says that the number of people seeking tattoo removal from plastic surgeons was up 43 percent between 2011 and 2012. Among those seeking laser removals in 2012:

Nearly 49 percent were between the ages of 19 and 35
38 percent were between the ages of 35 and 50
Nearly 66 percent were women compared to 34 percent men
Laser removal treatments are expensive, as well. Removal of a one-inch square black tattoo, depending on its age and location, can take up to a dozen treatments at $75 to $100 per treatment---although many practices offer a package price for complete removal. Moreover, removals can require a wait of six weeks or more between treatments. Color tattoos, especially greens, oranges, purples and blues are generally more expensive than black, grey, red and navy. In the end, tattoo removal costs far exceed those of getting the tattoos in the first place.
TEMPORARY TATTOO ALTERNATIVES
While many celebrities have permanent ink, far more use temporary versions for roles that require body art. Tattoo Manufacturing has supplied custom designs for hundreds of movie and television productions. In fact, many celebrity tattoos actually originated on a printing press, not in a tattoo studio.
Custom temporary tattoos provide an affordable, non-committal opportunity to "try out" a tattoo before making it permanent. Each tattoo lasts between four and seven days, and can be purchased in multiple quantities so the design can be tried over time and in multiple locations.
And best of all, if a dream romance turns into a nightmare, a little alcohol or a dab of baby oil can whisk the regret away!
About Tattoo Manufacturing International
Tattoo Manufacturing, a division of TMI Acquisition LLC, is the largest manufacturer of temporary tattoos in the world. The company designs and manufactures all of its products in Tucson, AZ. Products are non-toxic, hypoallergenic, use FDA certified colorants and comply with CSPC/CPSIA and ASTM requirements. All products exceed US, Canadian and EU safety standards. The company's products have a worldwide reputation for quality. Visit http://www.tattoosales.com or call 1-800-747-8016 for more information.