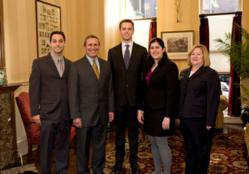 (PRWEB) June 30, 2013
The Law Firm of Pozzuolo Rodden, P.C., Philadelphia Family Law Attorneys, announces the upcoming presentation: The Role of the CPA in Family Law. If you would like to read any previous printed articles on family law and other corporate law, or estate planning topics please visit Pozzuolo Rodden's website at: http://www.pozzuolo.com
The Role of the CPA in Family Law
July 10th at 9:30 a.m. at the Montgomery County CPA Society of Pennsylvania. Cedarbrook County Club, Blue Bell, PA.
This course will discuss the role of the CPA in family law issues today. This presentation will include issues related to the dissolution of marriage and the equitable distribution of marital assets. It is important for a lawyer and an accountant to work together to identify potential income tax issues affecting marital assets and dissolution of marriage. Some of the issues that will be addressed include the valuation of business assets, trust assets, retirement assets, the income tax consequences of divorce as well as the affect of alimony on the receiving spouse and paying spouse. ....
If you would like to read any previous printed articles on family law and other corporate law, or estate planning topics please visit Pozzuolo Rodden's website at: http://www.pozzuolo.com
Pozzuolo Rodden, P.C. provides specialized cost-effective legal services to privately held business owners and high-net-worth clients in Pennsylvania and New Jersey in excess of 35 years.
Practice Areas:
Business planning and transaction, complex business litigation, commercial real estate and development, construction law and litigation, advanced estate planning and administration, tax and pension law, high profile and intricate family litigation, and employment law and litigation.
Pozzuolo Rodden, P.C.
Counselors at Law
2033 Walnut Street
Philadelphia, PA 19103
215-977-8200
http://www.pozzuolo.com